Tunisia's Mediterranean island delights with seaside promenades, desert landscape, old souks and traditional handicraft.
In the ancient Greek epic The Odyssey, the hero Odysseus comes upon the lotus-eaters, people who consume an intoxicating plant and live in a blissful, forgetful state of no cares. Legend has it that the land of the lotus-eaters was in fact the Tunisian island of Djerba. It's easy to see why. While today there's no mythic lotus to be munched, North Africa's largest island remains relaxing, enchanting and irresistible.
Located off the east coast of Tunisia, in the Gulf of Gabes in the Mediterranean Sea, Djerba (Jerba) can be a lazy holiday, an adventurous one, or both. Odysseus' journey took ten years but these days, a flight from Paris or Frankfurt takes three hours while a hop from the country's capital Tunis is less than a hour. It's tempting to act like a lotus-eater and loaf on the beach in the sun, however the island has plenty to explore. Here's how to spend two days in Djerba.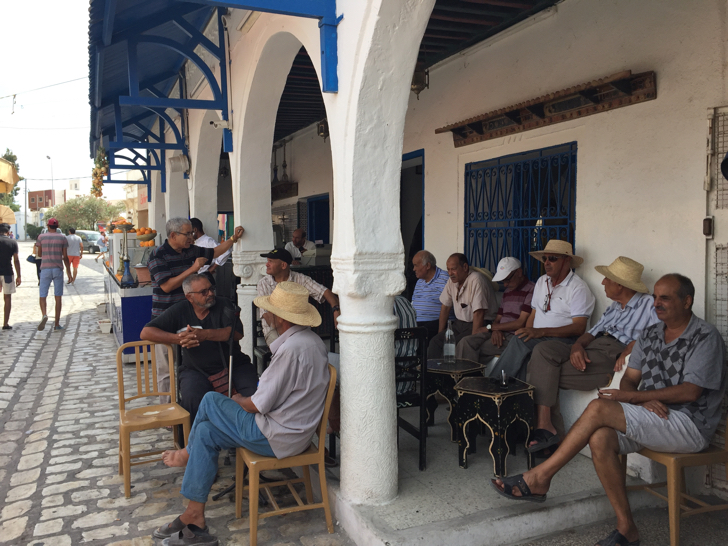 Two days in Djerba — Day 1: Houmt El Souk
Houmt El Souk (Houmt Souk), located on the northern coast of Djerba, is the island's main town and hub. It literally means "the market neighbourhood", and unsurprisingly, it has a large souk or traditional market, as well as a fishing port and modern infrastructure like banks and a Carrefour grocery store.
Before you start navigating the laneways and shops of the town's namesake souk, wake up with a coffee or two at Cafe Ben Yedder, at the corner of the covered market. The cafe's front terrace is an excellent spot for people watching while sipping an espresso (un express) or a glass of fresh squeezed orange juice with a flaky chocolate croissant (pain au chocolat) for less than a Euro.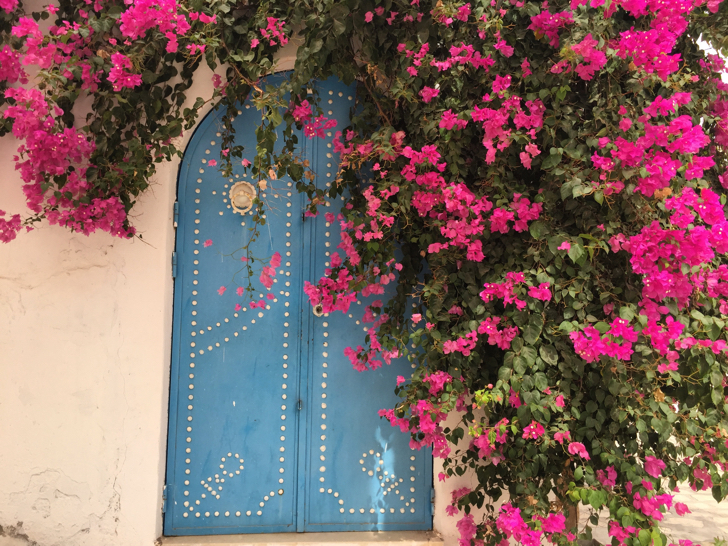 Time for the souk. While shopping is the prime reason to head here, the souk is atmospheric and even those who aren't interested in spending their dinar can enjoy exploring the labyrinthian streets, admiring the buildings, archways, bougainvillea draped doorways and scenes of daily life.
Browse the covered market before tackling the outdoor laneways that spider out from it. For locals, every large town on the island has its own big market day. Houmt Souk's grand marche is on Monday and Thursday. If you find yourself in Houmt Souk on one of those days, it's worth checking out to see what the locals are interested in buying.
Two traditional handicraft still made on the island are basketry made from palm leaf and pottery. You can see the latter being made in Guellala, a recommended stop on day 2. For more insight on what to buy, I've written a guide to shopping in Djerba.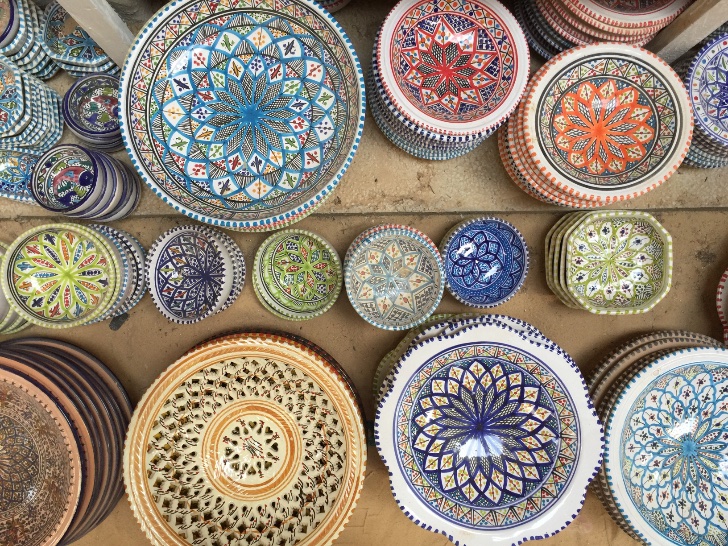 Shopping works up an appetite and for a hearty, cheap and cheerful lunch, try a local favourite brik. A thin pastry pocket is filled with chopped onion, mashed potato, parsley, a whole egg and harissa — the hot chili pepper paste that Tunisians can't go a meal without — before it's folded up and deep fried until the egg white is set but the yolk still runny, perfect for sopping up with crusty baguette.
I had a terrific one in the souk at a shop with no sign and only locals (always a good omen). To help you identify, on the left hand side of the doorway, there's a street sign for Rue Mohamed Ferjani. The shop is small with a deli-style counter for ordering, a couple tables and chairs and a sink for washing up after. A brik along with a bread and a fresh, heaping mixed salad of tomato, cucumber, onion, olives, potato, pickles, peppers, tuna and a poached egg (whew!) is only 3.500 dinar.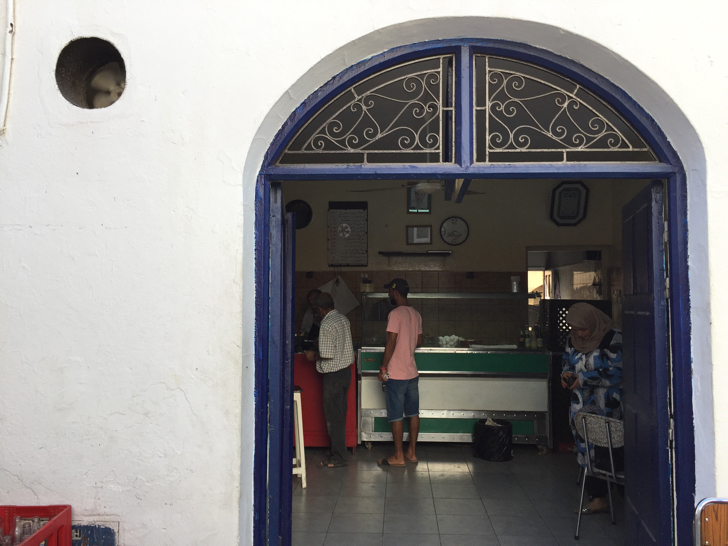 North of the souk on the water is Borj Ghazi Mustapha (also known as Borj El Kebir), a fort that dates back to 1289, built by an admiral of Aragon and Sicily on the site of Roman era fortification. It was remodelled and added to in the 16th century. Look for the obelisk, which replaced the tower of skulls unwillingly donated by the Spanish enemies who were defeated in the Battle of Djerba. The skulls were removed in the late 19th century.
It's possible to go inside the fort during visiting hours, and it's also beautiful to see from the outside at sunset as the stone glows warmly in the light.
In the late afternoon, the coast running from Houmt Souk east in the direction of the zone touristique can be a pleasant place for a leisurely seaside cycle. Stop in at the town's marina to see the silhouette of boats against a fiery horizon.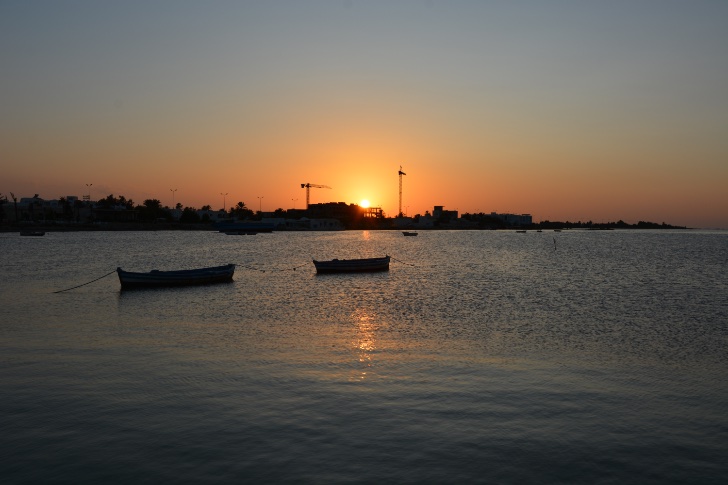 Day 2: Djerbahood, El Ghriba synagogue and Guellala
Time to cover more ground with a half to full day of driving around to see the sights of Djerba. Hiring a taxi driver for the day is a good, economical way to tour of the island.
First, head to the centre of the isle for the village of Erriadh and Djerbahood, the 2014 project that transformed the island's Jewish quarter and one of the oldest villages in Tunisia into a museum for street art. Walls, doors, buildings are the canvas and hours can be spent wandering the traditional village, stumbling upon artwork in this "open sky museum". Years on many of the murals still remain, constantly subject to evolution by weather and time. Allot for at least an hour.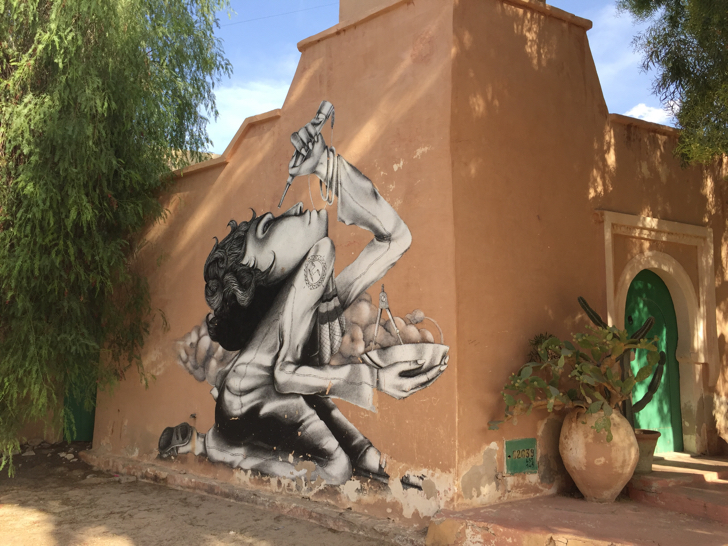 Next is El Ghriba, Africa's oldest synagogue, believed to date back to 586 BC. Djerba is home to one of the largest Jewish populations in the Arab world and the estimated 1,000-1,700 have been called the last Arab Jews. The synagogue is an important annual pilgrimage, drawing Jews from around the world a month after Passover. The temple has been a symbol of the island's religious tolerance and harmony, a reputation that was rocked in 2002 by an al-Qaeda truck bomb which killed 19 people, of them 14 German and four French tourists.
To enter, visitors must pass through security and a quick bag search. Women must cover their hair (a scarf is provided should you not have one). There's no admission, though you are nudged to make a donation. The interiors are a stunning display of intricately painted blue, yellow and white tiles.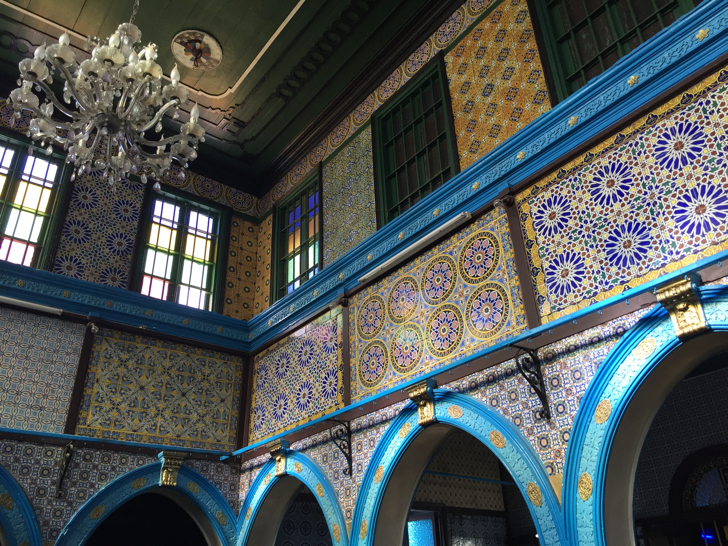 Travel to the southern coast of the island to the town of Guellala, famed for pottery. Visit a workshop to see how the clay is mined from the ground by simply digging a tunnel down, collecting clay as they go. There's usually a pottery demonstration using an old fashioned kick wheel (feet manually powering the wheel), a peek at the rudimentary kiln and of course, the shop where all the prettily painted plates, dishes, tajines are waiting to be taken home.
Perched on a hill, the Guellala Museum examines Djerba heritage, culture and traditions, everything from daily life to special ceremonies. The information is basic and the displays are not the most riveting (though I did get a big chuckle from the diorama of a woman getting her legs waxed before her wedding day). It's worth the stop if you've got some time to kill, a walk through takes about 30 minutes.
For sunset, head to the western coast of course. Most of this coastline remains wild and undeveloped, interspersed with fishing boats here and there. My taxi driver Abdell took me to the perfect sunset spot, about 4.5 km south of the airport, a perch beside Sidi Jmour Mosque (Mosquee Sidi Jmour). Lat/long: 33°49'52.7″N 10°44'52.1″E
Tranquility and calm settles over the water, the deep exhale of the day as lone fishermen glide back to the shore. Fingers crossed, you'll have a beautiful sunset.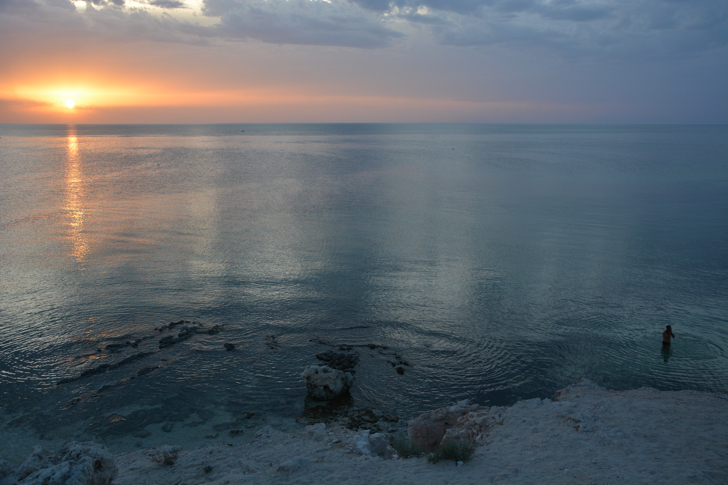 From west coast to east coast, head to La Lagune for seafood on the beach. This casual restaurant (plastic tables and chairs) does grilled fish (15 dinar) or giant shrimp (25 dinar) served with all the sides and a sea breeze — it's best to let them know in advance if you're coming for shrimp (crevettes). No alcohol sold but they'll allow you to discretely bring your own. Cash only.
I had a wonderful trip with Abdell, who has my vote for the kindest, most relaxed and patient driver on Djerba — and the safest driver on Djerba as well. Though I had simply hired him as a taxi driver, Abdell went out of his way to act as guide as well, explaining the sites and the local culture. For a half day driving around the island, in 2017 it was 50 dinar (and a generous tip for such a positive experience). Unfortunately for non-French speakers, he does not speak English. T: (98) 815 944; (28) 815 944.
Djerba orientation & Tunisia travel tips
The main language of Djerba is Tunisian Arabic and French. Some speak Berber. A few working in the tourism industry may speak English, Italian, Spanish or Russian.
Money, banking, exchange: The official currency is Tunisian Dinar (TND), locally referred to as dinar. Euro is also widely accepted in Djerba though you should use the local currency for all but large purchases like hotels and tours.
Dinar is subdivided into 1000 milim or millimes. As of 2017, 1 EUR = 2.9 TND. For example, a coffee in Djerba can cost 1 dinar, a breakfast set is 6.500 dinar.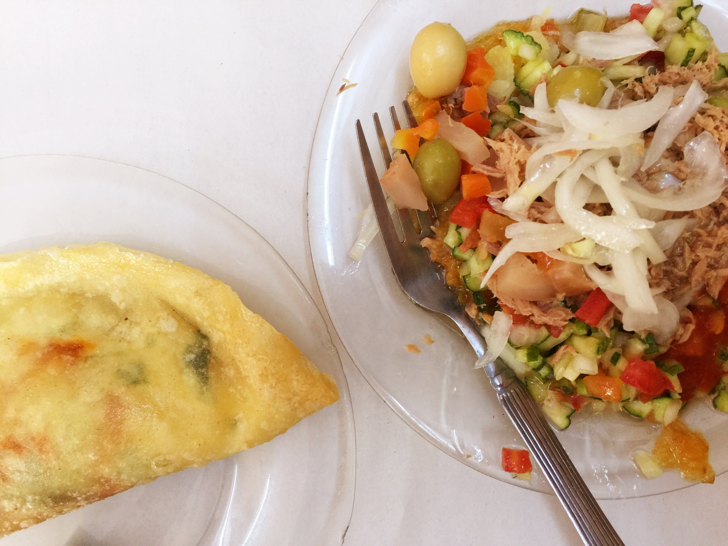 Banking in Tunisia is somewhat complicated. The currency is largely non-convertible meaning you can't exchange it outside the country. In fact, it's illegal to bring TND out of the country and they don't make it easy to exchange before you leave either. You'll need to present the bank receipt you received from the initial exchange in order to exchange it back. Even with the receipt, at the airport I had difficulty exchanging the dinar using a bank other than the one I had done the initial exchange with, which happened to be closed for lunch; I had to try several others before I found one that would do the exchange. I've heard ATM receipts are not accepted. All this said, try have as little leftover as possible — not easy when credit card is still not widely accepted in Djerba except at resorts.
In Houmt Souk there are banks with limited day time hours and ATMs, as well as some jewelry shops doing unofficial exchange. ATM withdrawal limits are quite low. For spending money, it's best to bring cash and exchange conservative amounts. Euro is most easily converted, though banks and airport booths can do USD, CHF, GBP. Djerba is very inexpensive compared to Europe so unless you plan on doing tons of shopping, a few hundred Euro does go a long way.
For transportation, visitors mainly rely on yellow meter taxis, found at the airport, at Houmt Souk, the zone touristique and along the roads running between all three. Taxis are relatively cheap on Djerba, meters starting at 450 dinar. The vast majority of taxi drivers do not speak English so if you don't speak French, you may want to arrange for a pick up from the hotel.
Sim cards can be purchased at the Tunis Telecom office in Houmt Souk for 1 dinar each. Passport is required for registration. In a silly twist, you can't buy the top up cards at the office. Find those at any small convenient store type shop. A 5 dinar card is plenty for a week of 3G and calls. Other carriers include Orange.
Outside of the resorts, alcohol can be purchased at the Carrefour Market in Houmt Souk or Midoun. The alcohol is located in a separate section of the shop. There's Tunisian beer, Celtia and Berber being the main ones, imported beer, liquor and Tunisian wine which isn't exactly what you would call a fine vintage. Alcohol is not sold on Friday.
Plug/sockets used in Tunisia are the French-style E (two round pins and hole) and C (two round pins).