A mouthwatering look at khao poon, the noodle of Laos.
In Laos, noodle soup is my daily obsession. For me, there's nothing better than a bowl of noodle soup to start the day, to meditate over the next story idea or recover from too much Beerlao the previous night. In fact, noodle soup is my favourite food in Laos.
The country has a wide variety of noodles but what pho is to Vietnam, khao poon is to Laos. Found throughout, from the outer reaches of the mountainous north to the very southern tip, sen khao poon (sometimes spelled kao pun or kapoon) is fermented rice vermicelli. Round and thin, the noodles are the thickness of skinny spaghetti. They are made and sold fresh daily, found in great sticky heaps at the market. In simplified terms, a dough made of fermented rice is pushed through a mold into boiling water. Easy, right? I'm about to learn just how much work is required.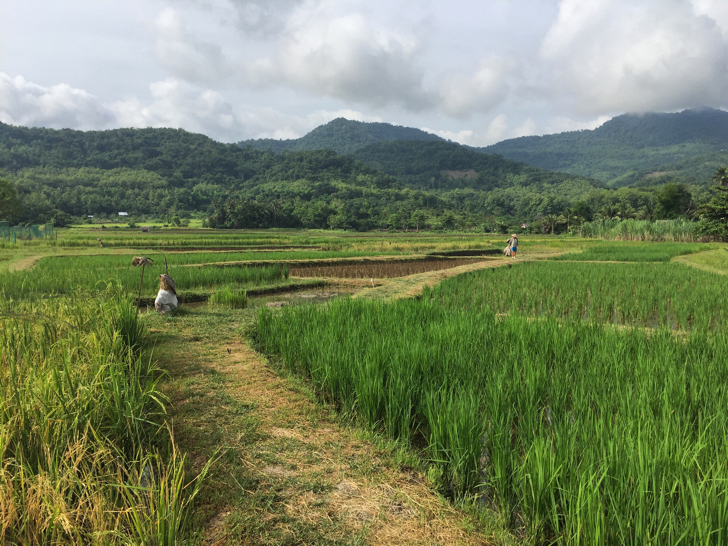 Khao poon, the noodle of Laos
I'm with my friend Laut Lee on his organic farm, a peaceful, fecund spread of land in Ban Thinsom village, 20 minutes from Luang Prabang. Lee is passionate about sharing traditional Lao culture and agriculture, and he's invited master noodle maker Khongsi to show me the old-fashioned way to make khao poon.
It begins with rice. Those who have done Living Land's Rice Experience will have learned how labour intensive and how many steps are required to grow rice. But the work doesn't end once the grains are harvested. When making rice noodles, the journey continues.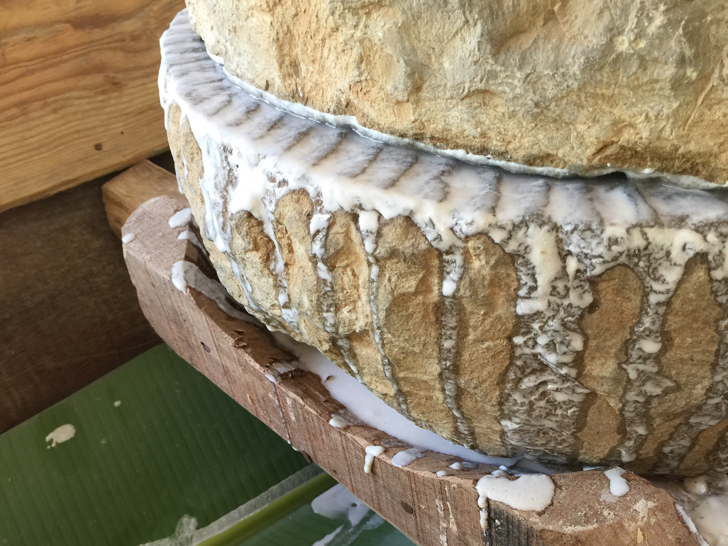 The first step is to soak the grains in water, leaving them to ferment before it can be ground up. There's no fancy modern equipment, just rudimentary, manually powered millstones. The soaked grains are fed into a hole in the top, one spoonful at a time. Turning the heavy stones, sweat begins to pour down my face, a tremendous effort required for the thick, milky liquid that seeps out.
The next steps are surprising and it is clearly why this noodle is so unique. The paste is gathered into a ball, wrapped in banana leaf and steamed in a bamboo basket.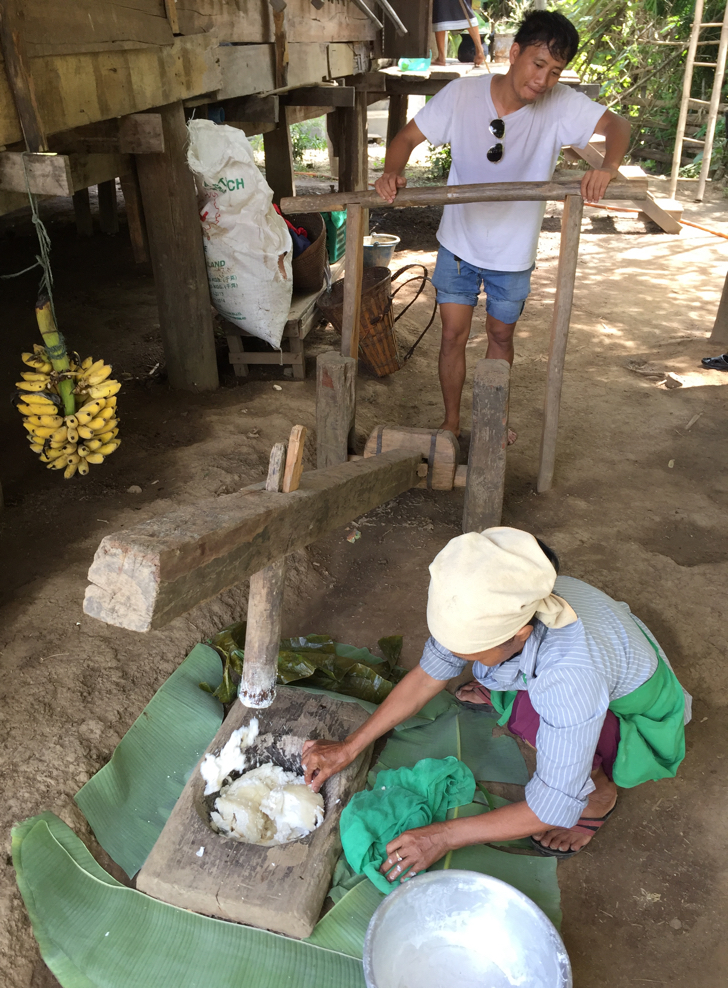 After steaming, the ball of dough is rather solid. The ball is broken down using a rice pounder, a simple agricultural machine. A pedal raises and releases the pestle onto the rice dough — thump, thump, thump, thump— a foot powered mortar and pestle.
The pounding turns the ball into a flexible, supple dough which Khongsi further kneads with her hands before she begins to add water, transforming it all into a thick, gloopy, gluey paste.
As if all those steps weren't labourious enough, the dense mixture is strained through a mesh cloth, a job best for two pairs of hands as one twists and squeezes the cloth and the other tries to direct it all into a bowl. The end result is a noodle batter that is sticky, glossy and smooth.
We can't rest easy just yet. More strength is required to push the batter through a mold made from a tin can with holes neatly punched in the bottom. With water on the fire at a rolling boil, she pushes the batter down with a plunger, a steady even pressure required for long, beautiful noodles. It is far more challenging than I expect.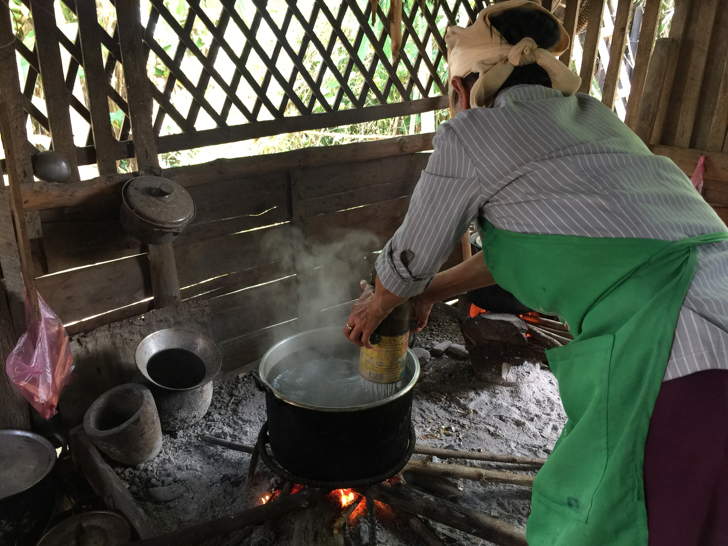 The cooked noodles are fished out using a handmade bamboo strainer — every instrument Lee has me use is traditional and natural, demonstrative of the Lao way of life. The noodles are laid out on flat bamboo baskets layered with banana leaves. I get close and inhale deeply, smelling the slightly soured aroma, the signature of khao poon. Because it is fermented, khao poon has to be sold/eaten the same day it is made. It is a lot of work for such a modest, plain looking noodle, but it is at the heart of Lao cuisine.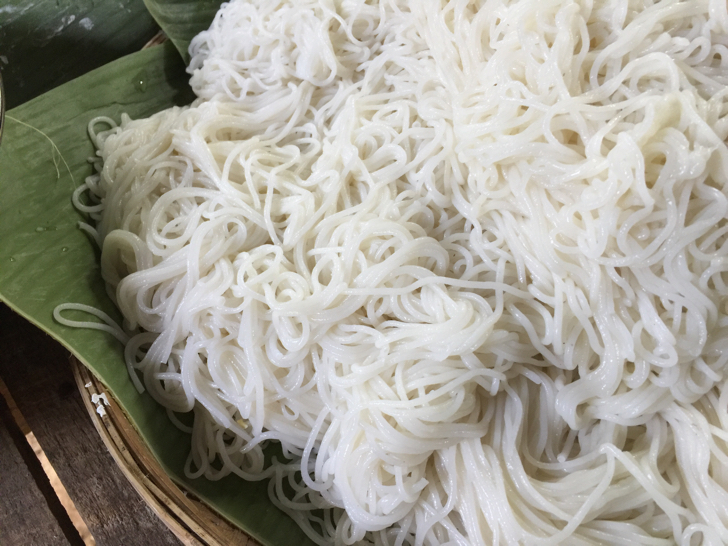 Ways to eat khao poon
Lee happily wades waste deep into the pond, and I happily watch from the sidelines. He's harvesting a wild water plant. I'm starving with anticipation but before we can even take a bite, we need all the trimmings.
For a Lao farmer, khao poon would be eaten very simply, as noodle soup or with a sauce, topped with a variety of fresh, raw seasonal greens gathered from the garden and foraged from the wild. It's also jazzed up with some condiments, chilli and a squeeze of lime.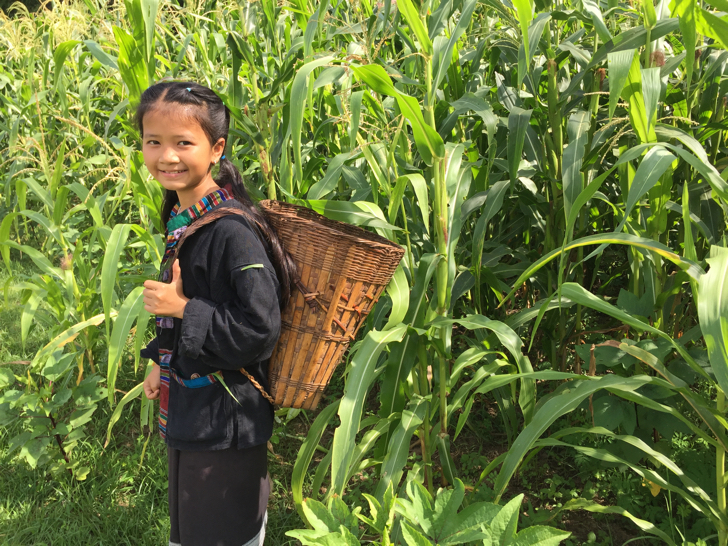 Found throughout the country, khao poon is commonly served with a fish coconut curry soup which is why it's sometimes described as "Lao laksa". This is Toui Somphonpakdy's favourite dish, one that his mother taught him how to make. As the chef/owner of popular Luang Prabang restaurant Cafe Toui, he cooks up delicious local dishes like larb, curries and Luang Prabang Salad but today he's prepared a special khao poon feast for me.
Pounded fish is boiled with kaffir lime leaves, galangal, coconut milk and pork fried with chilli creating a fragrant, delicious broth. Once the hot stew is poured over the noodles, it's topped with a whole bunch of vegetables and herbs for a make-your-heart-sing medley of textures and fresh flavours.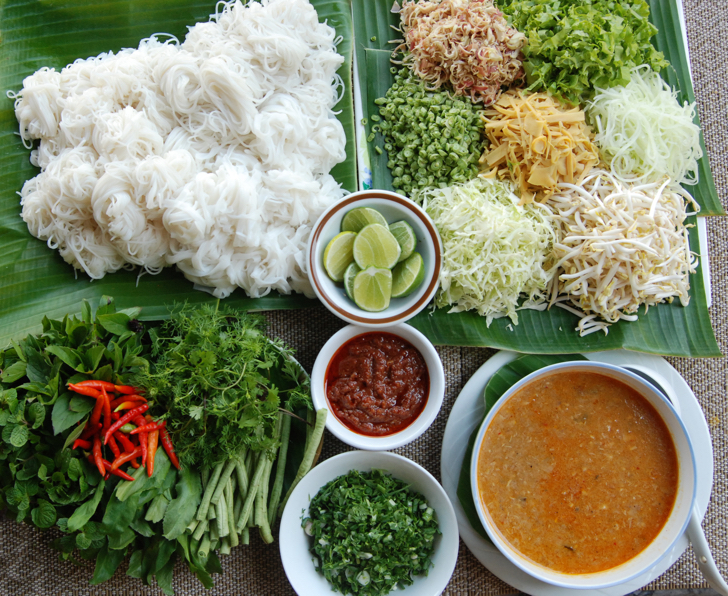 The possibilities are endless: shredded lettuce and cabbage, finely diced raw snake beans for crunch, banana flower, lemongrass, cooked bamboo shoots, bean sprouts, Thai basil, cilantro, sawtooth coriander, mint, green onions and fresh lime juice.
The noodles are also used in phan and nem dip. Phan dishes are where you take a leaf of lettuce and make your own wrap with pieces of meat, noodles, thinly sliced banana blossom, herbs and sauces. A good example of this is when eating nam khao, Lao crispy rice salad. Nem dip are pre-made rolls, with the stuffing all mixed together like a noodle salad within a spring roll. Both are a popular way to feast with family and friends.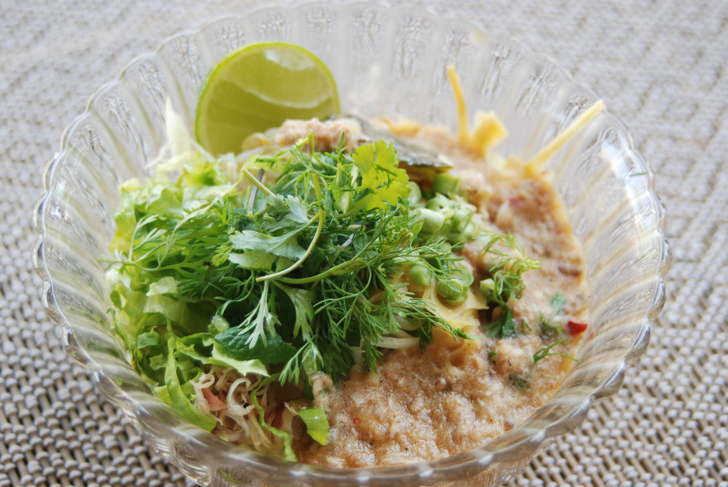 Khao poon in Luang Prabang
Learn how to make khao poon from master noodle maker Khongsi with the Rice Noodle Experience. The Banana Boat Laos tour takes you to Lee's farm and you'll get hands on with each step, including foraging for wild plants and picking organic vegetables. Advanced booking is a must, two person minimum. The tour can easily be combined with a trip to nearby Kuang Si Waterfall for a full day Luang Prabang excursion.
http://www.bananaboatlaos.com/culinary-tours.html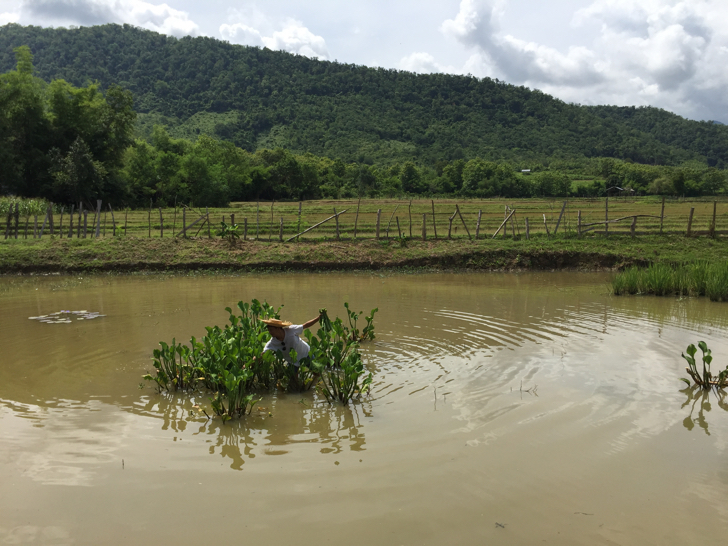 For eating: there's a small shop on the main street (Sakkaline Road) across from Villa Santi Hotel. There's another on the Mekong River road behind the National Royal Palace Museum. Friends-International restaurant Khaiphaen also has a tasty version. Plenty of Luang Prabang restaurants will have spring rolls filled with rice noodles on their menu.
This article was originally published on January 5, 2015. It was rewritten and republished January 2018 to include the noodle making process and Rice Noodle Experience tour.