The tranquil island of Djerba is known for its beach resorts, traditional architecture, and culture and people distinct from the rest of Tunisia. It's also famed for its souk, a shopping paradise for visitors. Here's a guide to shopping in Djerba.
Located in Houmt Souk, the island's main town which literally translates as "the market neighbourhood", keen shoppers can easily spend half a day combing the market's narrow halls and alleyways. Unlike Tunis' grand souk, which has large areas devoted to what the locals need and want, Djerba's market mainly caters to tourists who will find a concentrated amount of eye catching things. Compared to Tunis, Djerba's souk is less overwhelming and less aggressive, and also cheaper.
Find bags, babouche (leather slippers with a pointed toe), sandals, shoes, jewellery, haberdashery, rugs, pottery, lamps, tunics, kaftans, metalwork, boho leather bags, cushions, silver jewelry, dried fruit and spices.
Handicraft and artisan specialities of Djerba and southern Tunisia include pottery, from unglazed jugs and light bulb covers to prettily painted tiles, platters, bowls and tajines. Less burdensome to carry home and a must buy are the bags, baskets, mats and hats handwoven from palm leaves.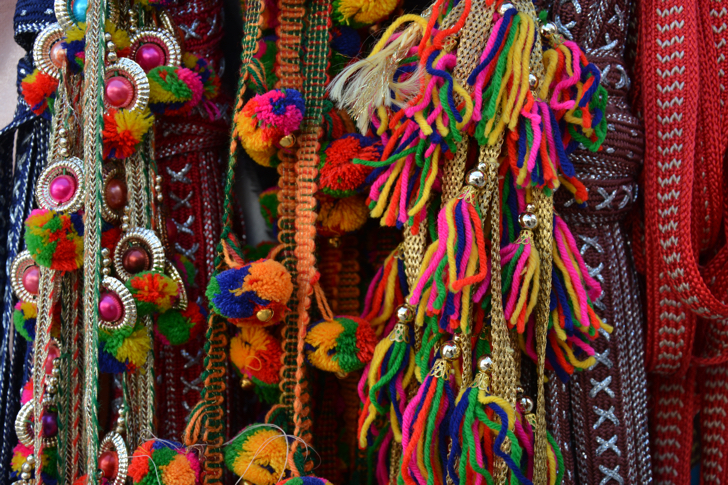 This is also the place to stock up on fouta, a Tunisian towel (commonly known in the world as Turkish towels) usually made of cotton and with a simple pattern such as stripes. While not handwoven, they are great as a summer towel, beach/picnic blanket and sarong for the hammam (traditional bathhouse). Tailors can transform the towels into tunics, kaftans, bathrobes and dresses with trim.
Where to shop in Djerba
I trawled the souk for treasures, and also asked the expats for their recommendations. Here is a list of noteworthy places to shop in Djerba's souk. Note: all prices are estimates to give you an idea. They will inevitably change with the times (and depend on your bargaining skills). See the bottom of this guide for more tips.
Basketry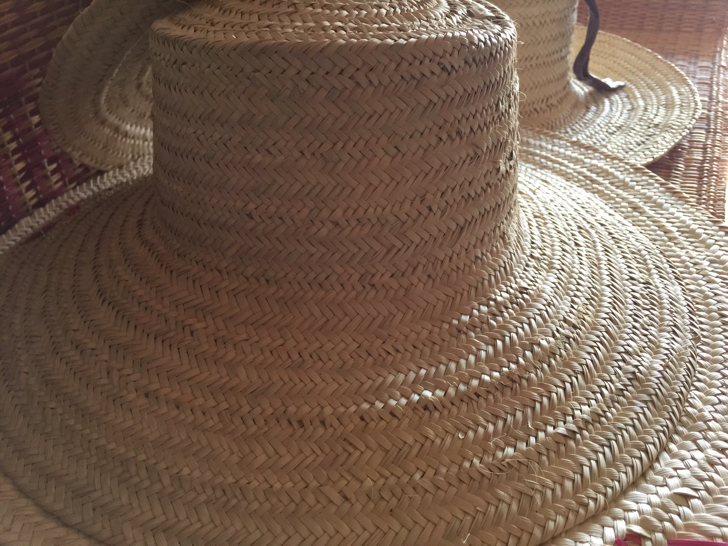 One of Djerba's traditional handicraft is palm leaf transformed into anything from mats to baskets and hats of all shapes, sizes and colours. It's difficult not to be drawn into Khacha Mohamed's shop. Baskets, those both beautiful and practical creations, line the stairs up to a porch strung with garlands of colourful pots and mini baskets. Inside the upstairs shop is some of Djerba's best basketry and mats, made by Mohamed or his atelier. Read more about him and the handicraft in my post here.
Little did I know until I wandered up, Mohamed has been highlighted in French travel guides and articles, as evidenced by the French woman I met. She was a repeat Djerba visitor/customer, and came to the shop knowing exactly what she wanted.
Mohamed's daughter Amel gave me a lesson on what to look. For high quality palm leaf weaving, look for tightness and evenness of the weave. When it comes to the baskets, avoid anything sewn using nylon thread. Thin rope made by twisting or braiding palm should be used. The same goes for the basket handles; it should also be made from palm.
If you're worried about how to bring a basket or hat home without crushing or warping it, don't be. Amel showed me how to press the basket completely flat and assured me it would spring back once out of the luggage. I was highly skeptical but it worked. The palm leaf is surprisingly strong yet supple.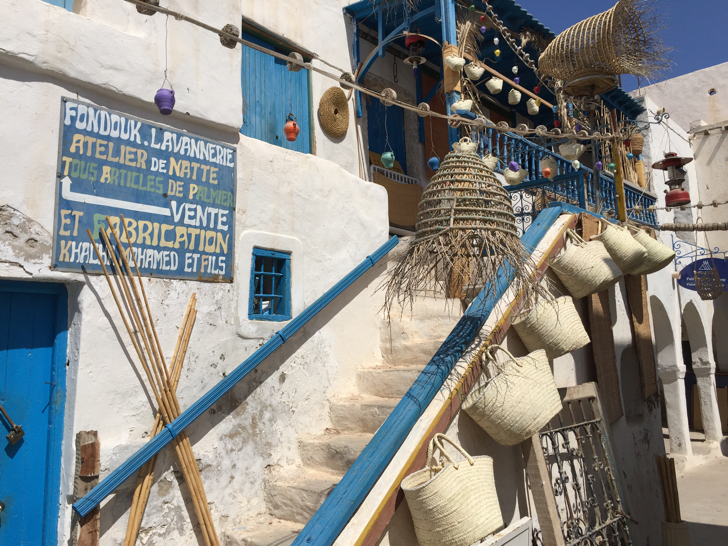 Fondouk La Vannerie, Atelier de Nattes, Khacha Mohamed; Fondouk Bouchaddakh, Houmt Souk, Djerba; T: 20 891 778; 27 365 909; Location: 33.877290,10.858719
Babouche, sandals, slippers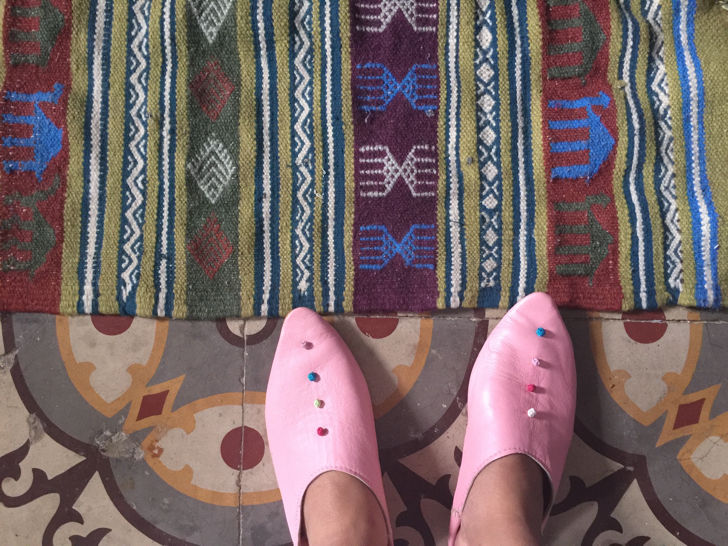 Vogue may have declared the babouche "the must-have shoe of 2016" but North Africa has been rockin the look for centuries. Though it originates from Morocco, babouche, the leather slippers with the distinctive long pointed toes, are all over the bazaar.
Some are made in Tunisia, while the best will have come from Morocco. We asked an expat for the best, reasonably priced shop and he strongly recommended Artisanat Ali Baba, inside the souk couvert (covered part of the souk).
The shopping experience was actually pleasant. They were attentive but there was no pressure. A babouche was 20-25 TND. There were also all other kinds of slippers and sandals ranging from simple slides to dazzlingly sparkly concoctions, 15 TND. I met tourists who, at other shops, had bargained down sandals to as low as 9 TND. I'm happy with my well made pairs (plural).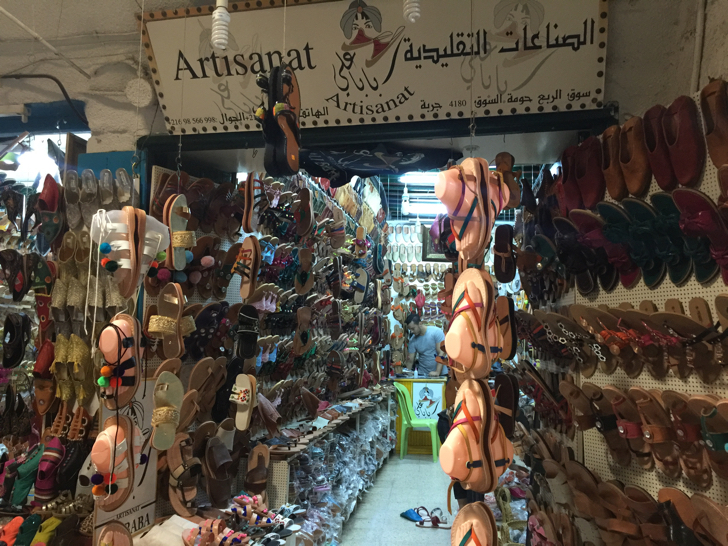 Artisanat Ali Baba; Souk Couvert Houmt Souk, Djerba; T: +216 75 621 044
Fouta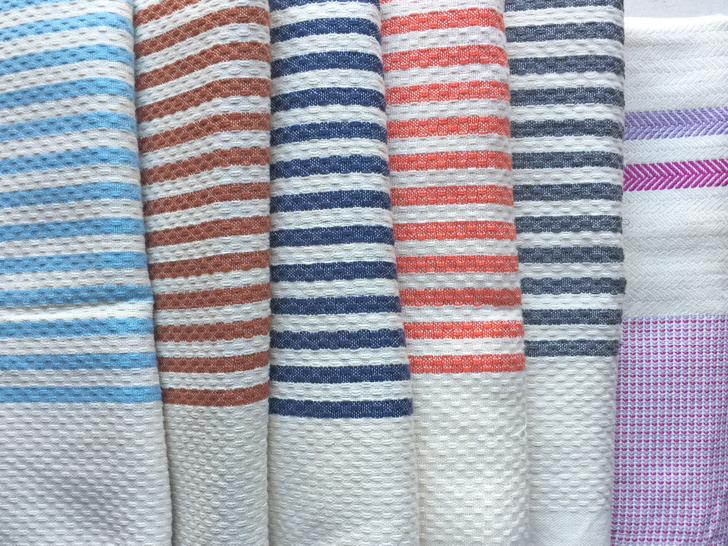 A shop without a sign across from Cafe Zaraa (a terrace in the centre of a small piazza), tourists wouldn't think to enter because there's no showy display of merchandise outside. Inside, however, is a wholesale type store selling excellent fouta in different patterns, sizes and type of fabric. It's fixed price, the price clearly marked. A regular cotton fouta is only 9 TND (approximately 3 Euro). It's hard to resist buying one in every colour.
The shop also has stacks of tablecloths, table runners, napkins, rugs and skeins of yarn.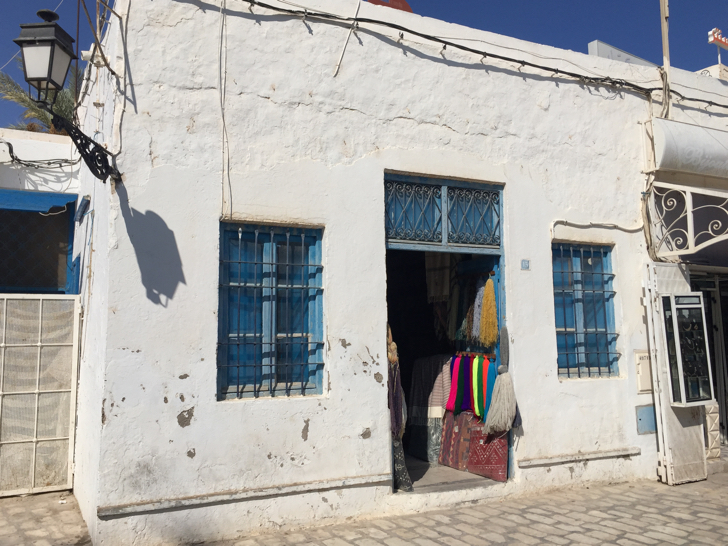 Rue de Bizerte, facing Cafe Zaraa, Houmt Souk, Djerba; Location: 33.876958,10.859503
Clothing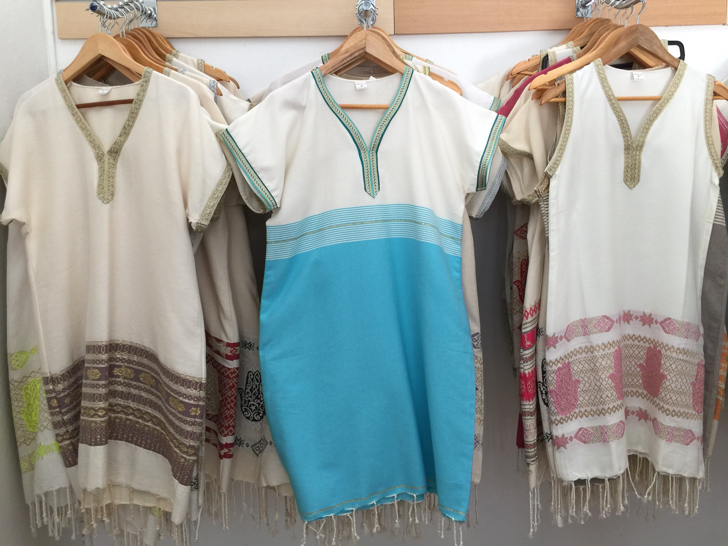 Foutas are transformed into tunics, kaftans, beach covers, dresses and bathrobes. You can buy it off the rack, ready made, or if you have a few days in Djerba, get yours tailor made. I found a great tailor who made me a sleeveless dress, kaftan and a bathrobe in two days. The price, including the fabric, was 25 TND each.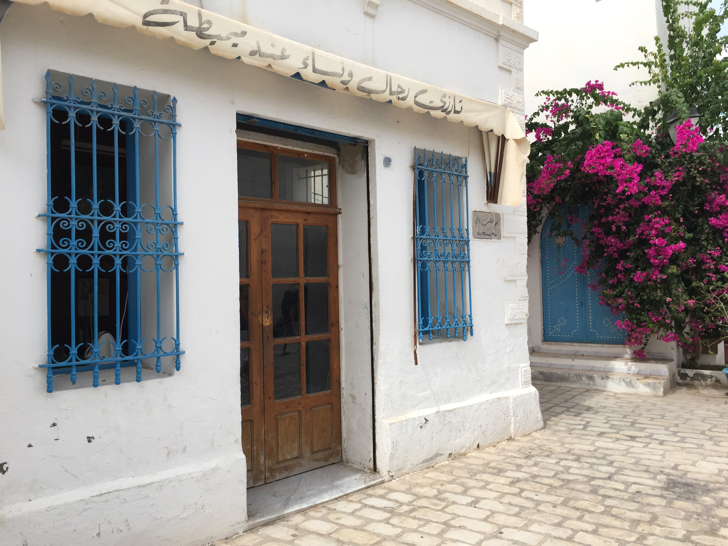 Find the tailor almost beside El Fondouk Cafe. The shop has a stone street market "Rue Moncef Bey" on its corner.
Tips for shopping in Djerba
Vendors in the market, especially the covered souk, can be pushy as they all vie for your attention. Most people (myself included) would like to browse in peace but it can be intimidating and annoying when a mere glance at something results in an intense sales pitch. Stay cool and remind yourself it's ok to look and not buy. Sometimes wearing sunglasses helps with maintaining a poker face.
Unless there are prices on display, it's expected to bargain. The initial price a vendor quotes will be inflated. Respond with a third of the price and try working your way to half. Buying more should give you more bargaining power.
There are ATMs and banks around the souk for official money exchange. We noticed that some jewelry shops did unofficial exchange. It's a slightly better rate but remember you'll need to show an official bank receipt to exchange any leftover Tunisian Dinar when leaving the country.
Every large town on the island has their own market day. Houmt Souk's "grand marche" is on Monday and Thursday. Vendors set up along the streets running from the sea into the permanent souk, mainly selling things of interest to locals. It's well worth checking out if you're in town on market day.
Many shops in the covered souk are closed on Sunday.
The town of Guellala, in the south on the opposite side of the island from Houmt Souk, is where the pottery is produced. If going on a tour of the island, check out the workshops and shops here.