Living in Providenciales, Turks and Caicos Islands has its perks. The island chain nation, part of the British West Indies, is a dream vacation destination and I know I'm lucky to have its beaches at my doorstep. But ask me what's my favourite spot on "Provo" and it's not the main attraction Grace Bay, not Sapodilla Beach or any beach. It's paddling Mangrove Cay.
Part of Princess Alexandra Nature Reserve, Mangrove Cay lies east off the northeastern end of Providenciales, just across the channel from Blue Haven Marina, the island's main docking for private and charter yachts. Technically Mangrove Cay is an island though most of it is submerged under water to form red mangrove wetlands chock full of wildlife: turtles, fish, sting rays, birds and baby sharks. High tide creates channels that spider throughout and the 116 hectares become navigable by standup paddle board or kayak, an easy half-day trip.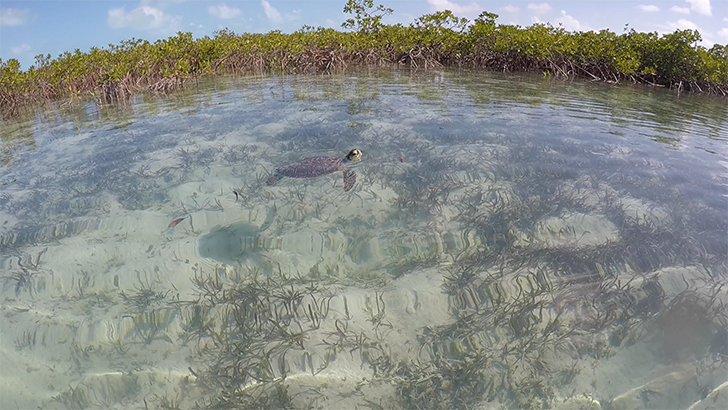 The crystal clear waters make wildlife spotting a cinch. Watch for little lemon sharks gliding past, a turtle popping up for a gulp of air, the cow fish hanging out under the roots, rays leaping out of the water. My personal highlight? I was taking a break on my SUP at the right place and time to see a tiny mantis shrimp working his patch of sand.
It's the tranquility that has me coming back again and again, an uninhabited, peaceful water world to counter Providenciales' resort scene.
Kayak and standup paddle board eco-tours on Providenciales
Several operators offer guided kayak and standup paddle board tours on Providenciales. Public tour programmes in the mangroves are usually 1.5 – 2 hours, including all equipment and guide. The cost sometimes depends on the number of people, around US$100 to $150 per person not including tip or transport.
SUP gives you a terrific vantage over the bushes and the water, where you can see clear down to the bottom making spying the wildlife a lot easier. I encourage you to give SUP a try but if it's not for you, then kayak is still a good way to go.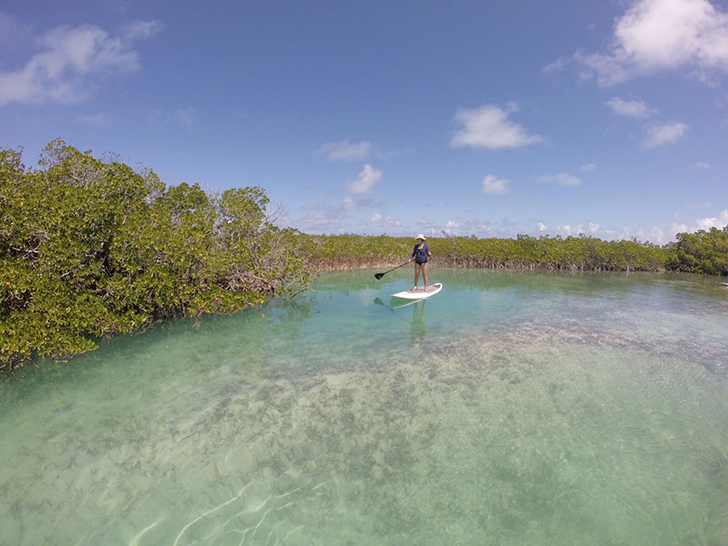 Kayak and SUP rentals on Providenciales
For do-it-yourselfers, most tour operators also offer rentals. They usually provide a basic map, an orientation and a suggested route depending on the wind strength and directions. Rentals are per hour, half day or full day. Given the prices, for those who plan on doing a lot of paddle boarding throughout the vacation, it's worth considering bringing your own inflatable SUP.
Departure time depends on the tides and the weather, especially the wind. Check tide times here or do an online search for "tide charts Providenciales". Aim to be heading into the mangrove within a few hours of high tide, during daylight hours.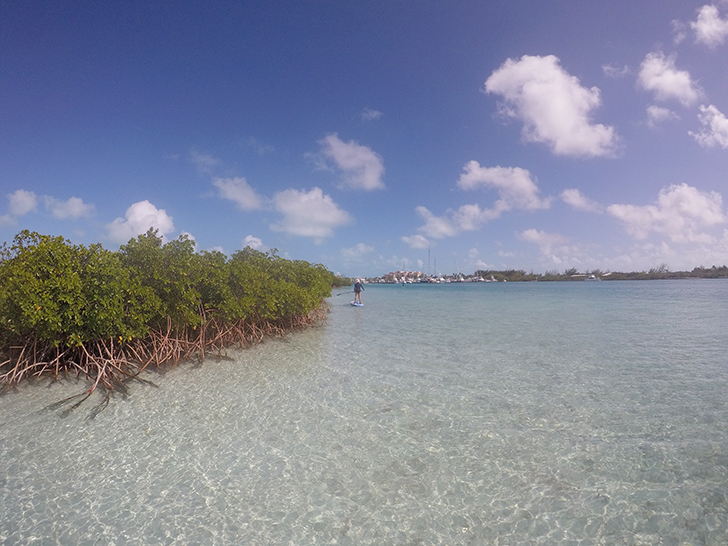 Don't go in high winds. Though the distance doesn't seem great, crossing the marina channel is tough when windy. An app like Windytv can tell you the wind speed and direction. Otherwise, check with a tour/rental operator about conditions.
With low wind, plenty of drinking water and good fitness, you can strike out further, perhaps circumnavigating the island or making it to Donna Cay and Little Water Cay, also part of Princess Alexandra Nature Reserve. If in doubt about navigation or your abilities, go with a tour.
Some final tips: The sun here is fierce. Hat, sunglasses (ideally with retainer), sunscreen and paddle shirt/rash guard are recommended.
Happy paddling in Provo.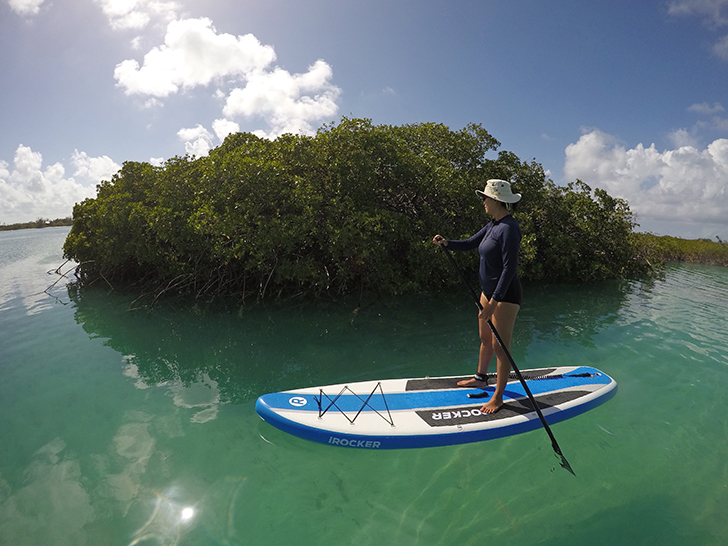 Eco-tour operators in Providenciales
Big Blue Unlimited
Office at Blue Haven Marina, Leeward
T: (649) 946 5034
info@bigblueunlimited.com
http://bigblueunlimited.com/
SUP Provo
T: (649) 242 2927
supprovo@gmail.com
http://supprovo.com/
Surfside Ocean Academy
Grace Bay Club, Grace Bay Rd
T: (649) 231 5437; (649) 246 8092
info@surfsideoceanacademy.com
http://www.surfsideoceanacademy.com/
Water Play Provo
T: (649) 232 7245
waterplayprovo@gmail.com
http://www.waterplayprovo.com/
How to get to Blue Haven Marina
From Grace Bay: head east on Grace Bay Rd past Seven Stars, Coco Bistro and Club Med. Continue through the gate to the Leeward Settlement.
From Leeward Highway: head east on Leeward Highway. Past the Beaches roundabout, it's 6.4 km until the left turn into the Leeward Settlement. Follow signs to Blue Haven Resort to reach the marina and parking.