Switzerland is famous as a winter playground but for ardent hikers and outdoor enthusiasts, summertime is when Switzerland really shines. The country has a staggering number of hiking trails – the SwitzerlandMobility App boasts a network of 60,000 km of signposted hiking trails. But I find myself returning, again and again, to the magnificent yet little known Binntal or Binn Valley.
The Binn Valley is located in the Upper Valais (Wallis in German), in southwest Switzerland bordering Italy. The region stuns with raw natural beauty, tremendous vistas and ancient wooden villages steeped in history and curious traditions. The valley and its villages once benefited from the pack mule trade route, connecting the region with Italy via the Albrun pass (2400m), and you can still walk on parts of the original trail. Until a tunnel was finally built in 1965, several villages would be completely cut off from the world in the wintertime.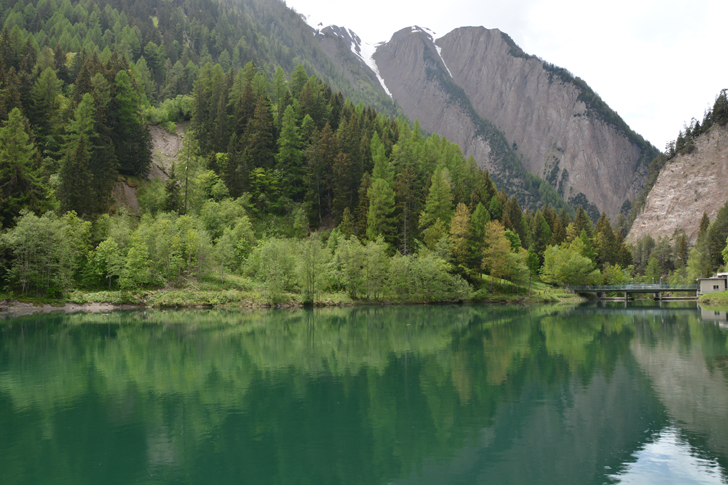 Over the course of three years I have explored many parts of the Binn Valley but I didn't really grasp it until yesterday, when I took a cable car up to the Aletsch Arena. Standing on the mountain ridge and looking across the Rhone river valley, there on the lower flanks I could see the village of Ernen, a cluster of timber houses and its heroic white baroque church. The village sits like a gatekeeper at the mouth of a narrow gorge that snakes its way into a fortress of peaks. A single precarious road slips in to the remote villages of Binn, then Imfeld (Fäld) before there is no choice but to walk up, up, up and over to Italy. Intrigued? It's a special hidden place, now here's how to explore it.
Hiking the Binntal / Binn Valley
Many Swiss would consider Binntal to be far and remote. For anyone else unaccustomed to having such a dreamy transportation system, it's extremely easy and a reasonable distance from the city. For example, door to door it's just two hours from capital Bern. Information on how to get here is at the end of this post.
To get started, pick up a map available at the tourism offices and most restaurants, cafes and chalets in the Binntal (or see it online, links below). The two I recommend are only in German but the map and details are understandable. The "Binntal Panoramakarte" has an illustrated map and gives an overview of 16 different hikes, ranging from an easy two to three hours, to serious treks over mountain passes. There is straightforward information on each hike, including the total distance, the amount of ascent and descent, and time it takes.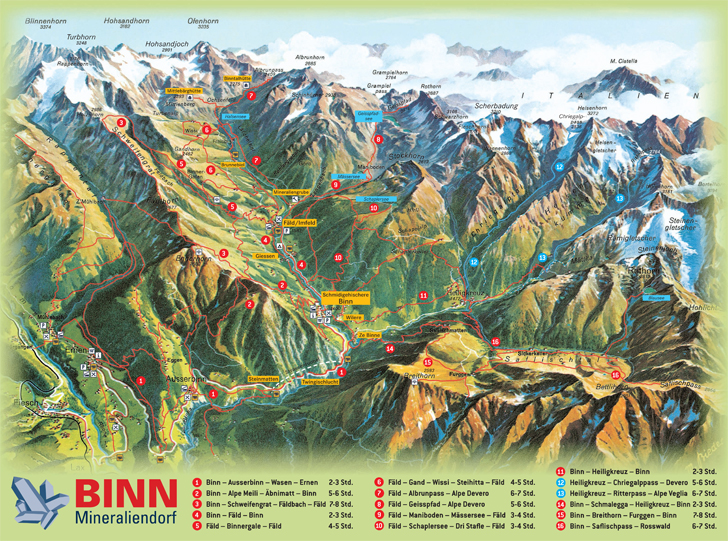 The "InfoKarte Landschaftspark Binntal" has a better, more detailed aerial map that distinguishes between roads, hiking, biking and alpine trails. The information on the different hikes is written out in German.
Next, pick a hike and come up with a plan. This will probably include looking up and noting the PostBus schedule.
For those on bicycle or motorbike, the single road in is narrow and cars/buses fly around the corners. You'll be rewarded for your bravery with jaw-dropping views, especially in the road leading up to Ausserbinn.
Ernen, Binn and Imfeld are the starting point for many great hikes. Here are a few of my favourites.
---
Binn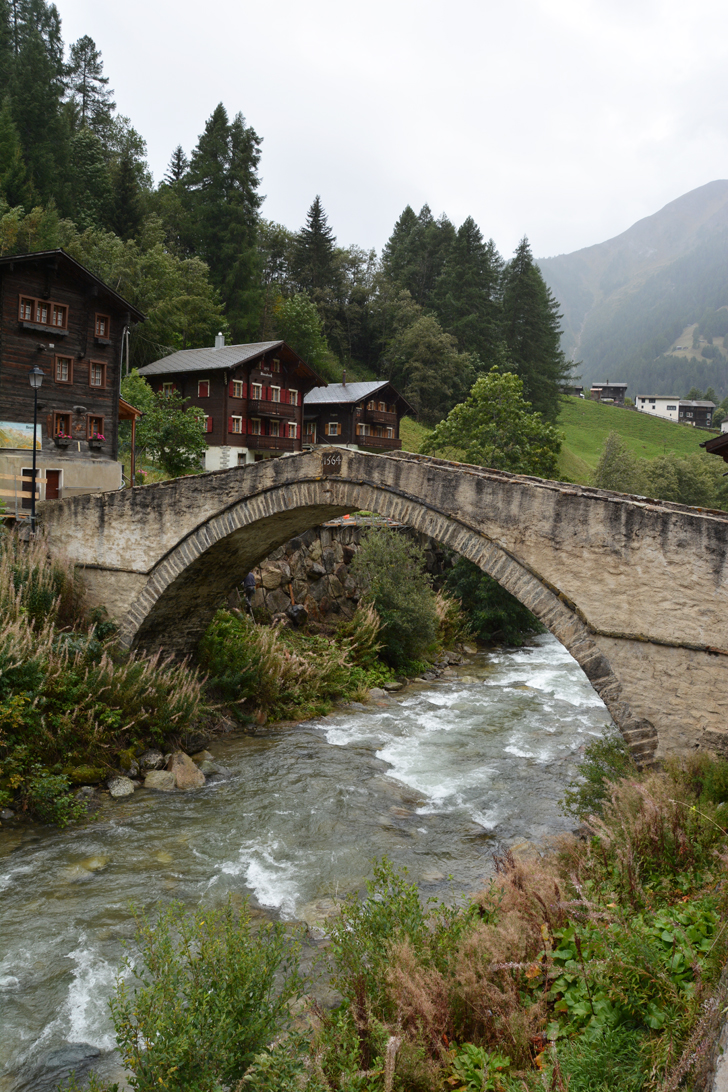 Guarded by towering walls of rock and an inspiring church, Binn feels like a secret. The village (altitude 1400m) sprung up around the Binna river. Walk around to admire the architecture, the picturesque stone bridge dating to 1564 and look for the carved wooden masks sporting fierce expressions. An ancient tradition of the Valais, the masks are hung on buildings to ward off spirits. The Binntal is also known for its mineral deposits – Tourism Switzerland proclaims it is one of the ten largest in the world. Stop by a shop to learn more about the region's minerals, including the 19 crystals unique to the area.
There are several cosy restaurants. It's worth taking a look at the historic Hotel Ofenhorn, a hotel of the Belle Epoque. Opened in 1883, it was one of the pioneers in alpine tourism and in its heyday, guests such as Winston Churchill graced its hallways. The restaurant sunroom offers a wonderful view of the river and the menu features Valais specialities, but the outrageous 4 CHF charge for a glass of tap water with the meal may leave a bad taste in your mouth. Fill up your bottle with (free) mountain water from the town fountains.
Suggested hike | Binn – Twingischlucht – Steinmatten: gorgeous gorge
Before a two-kilometre tunnel through the mountain was opened in 1965, access to Binn and Fäld was via a narrow road built into the cliff face along Twingi gorge. It was extremely hazardous in the winter (with rock falls and avalanches earning it the moniker gäh tod or sudden death) and it had to be closed, effectively cutting off these villages from the outside world; supplies had to be brought in by helicopter. With the tunnel as the lifeline, the old road is now a stunning way for foot or bicycle. Prepare yourself for epic views (I don't use that word lightly). It is nothing but deep valley, soaring peaks and pines clinging to sheer cliffs. Traces of the old Roman road are still visible, evidence of the ancient trade route along the valley.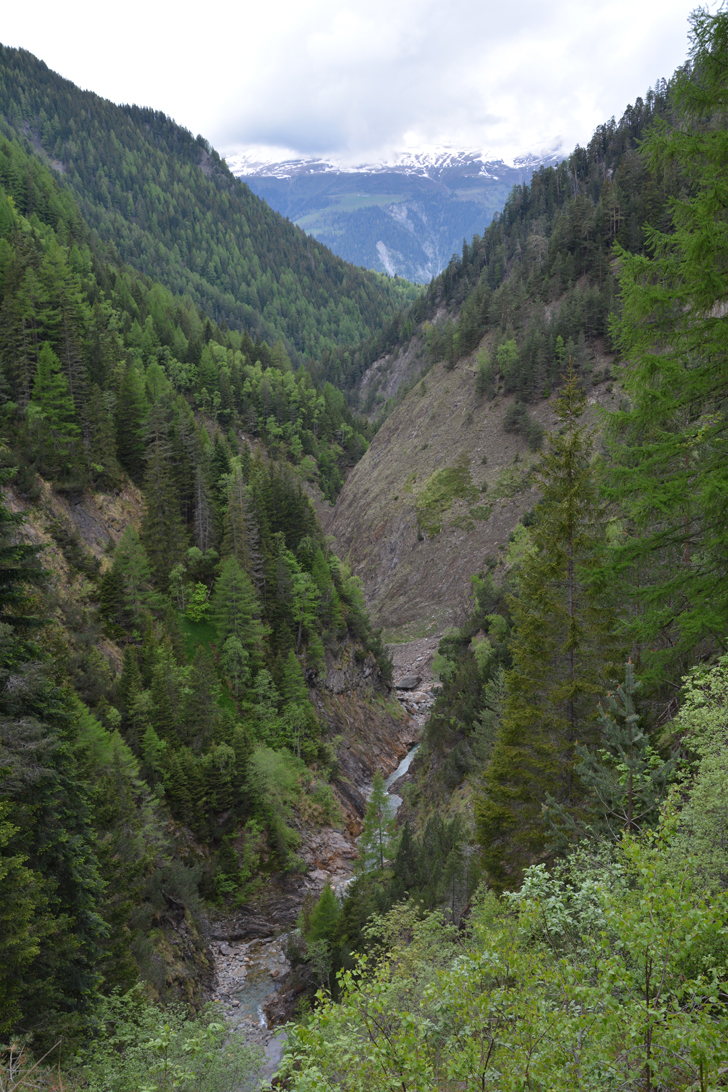 From Binn village centre, head on the trail to the right of the church. Here you'll travel down through farmland to a small lake. The trail skirts the right of the lake and then it's a 30-minute flat walk along the gorge.
At the end you'll reach the mouth of the vehicle tunnel and Steinmatten bus stop. If you've planned it correctly, you can catch the bus back to Binn or to Ernen, or continue on hiking to Ausserbinn – Wasen – Ernen. If you do Binn to Ernen, it is 8.6 km, 140 m total ascent, 350 m descent and will take 2-3 hours.
Suggested hike | Binn – Heiligkreuz (1450 m) – Binn: pilgrim's trail
This hike offers a bit more of a challenge as there is a descent on a rugged trail. Part of the trail is an old pilgrimage route to the church in Heiligkreuz. It's a 6.2 km loop that can be done in 2-3 hours. It's well worth stopping at the new guesthouse there for refreshment, a meal or an overnight stay if you're tackling the difficult Chriegalppass or Ritterpass.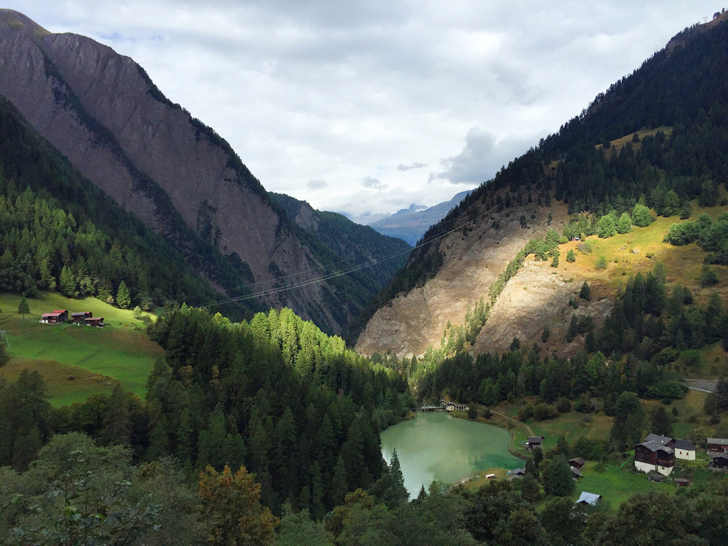 From Binn village head up the stairs to the church. You'll come to a signpost which directs you right, through the farmlands. Simply follow the yellow signs Heiligkreuz, and once you enter the forest trail, there are occasional yellow blazes painted on rocks to mark the way. Eventually on the forest trail, there is a fork with two signs, both ways pointing to Heiligkreuz. I was told the left upward path doesn't really add much value to the trek so I followed the right trail which heads down for 15 minutes until it hits a flat track. Head into the village, you can't miss the church or the cafe/guesthouse.
Located in the Leng Valley (Lengtal), the village is a cluster of simple houses mostly built from 1611-1786. The church was built in the 3rd quarter of the 17th century and its cross layout is unusual for the region. It's significance as a place of pilgrimage extends beyond the region. In early days, people from as far as the upper valley would travel here, a 10 to 20 hour journey. The church's festive day is September 14 each year.
Legend has it there was a soldier being held captive by the Turkish army and in order to gain his freedom, he promised to do a pilgrimage to the Leng valley. He did this pilgrimage in his dreams and to give thanks for his salvation, he hung his halseisen (prison iron neck collar) on the wall. Miraculously it actually appeared on the wall. It remained on the church wall until it was stolen in 1918.
Built on the foundations of a 1667 house, later an inn that burned down in 1999, recently opened Gasthaus Heiligkreuz has a cheerful indoor dining room, an outdoor terrace, drinks and a menu of hot and cold dishes. There are four small but modern, well-equipped rooms with private bathroom with shower. It's open seasonally from 14 May to 23 October. T: +41 27 971 01 63; info@gasthaus-heiligkreuz.ch; http://www.gasthaus-heiligkreuz.ch/
To return to Binn: backtrack along the same trail, or return to the trailhead, then instead of going right and back on the trail, continue straight and eventually it joins the paved road that rarely has any cars. After a while there is a yellow sign for Binn so you can leave the road and walk through farmland again.
A slightly longer route with more elevation change: cross the river and return via Schmalegga, Ze Binne and past the small lake.
Note: In 2016 I was told a new trail to Heiligkreuz was being cut. Check with the tourism office for a possible updated route.
---
Imfeld/Fäld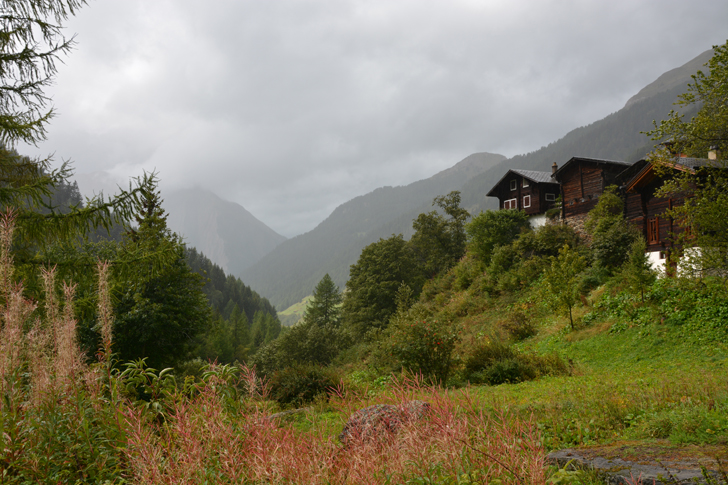 If Binn is a secret, then Imfeld/Fäld is a mystery. Withdrawn deep into the valley, it is the last major cluster of year-round civilisation. First settlement can be traced back to the Roman period. Wander around to see traditional timber stables built without any nails and the chapel dating to 1660.
Suggested hike | Fäld: all roads lead to Rome
A stroll around the village is a must, and an easy hike option is Binn – Fäld. It's a superb place to sample local cheese and dried beef, both served as paper thin slices. The tradition stems from having to produce and preserve food in order to survive winter isolation. I had both with my outstanding meal at friendly, surprisingly modern Bärgkristall T: +41 027 971 03 78; info@baergkristall.ch; http://www.baergkristall.ch/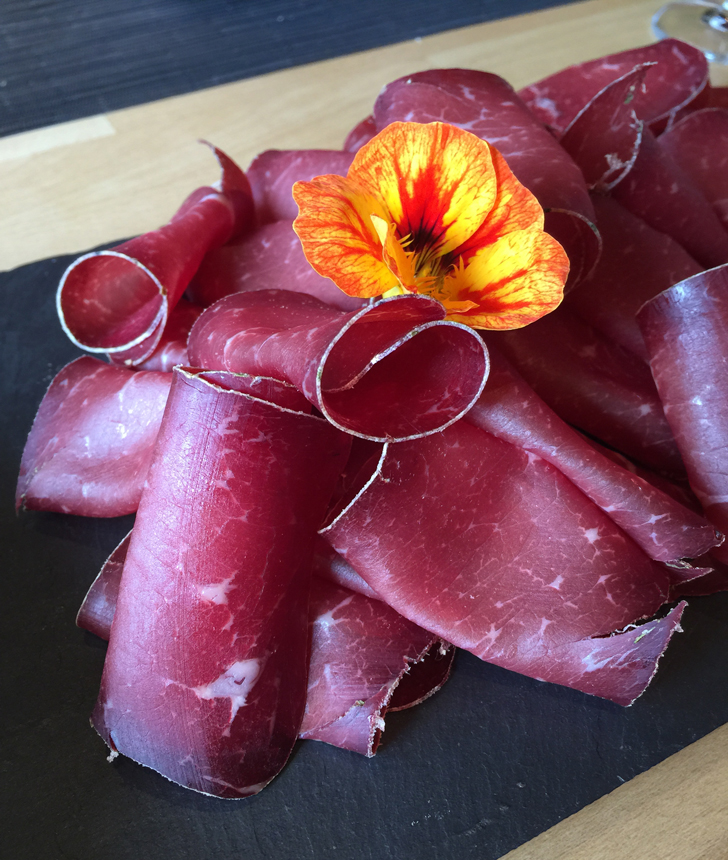 The village is the jumping off point for some serious alpine trekking to the Swiss-Italian frontier: the Albrunpass (2409m) or Geisspfad (2474m) to Alpe Devero. Use the Prospekt Alpe Veglia – Alpe Devero – Binntal booklet which has English, French, Italian and German. Download the pdf version in the link. The booklet includes a list of mountain guides for hire, map and accommodation list, from alpine huts and camping to hotels and chalets. It also mentions, "at the end of every August, Binntal and Veglia Devero Nature Parks send out an invitation for the 'Camminata dell'Arbola'. This moderately difficult guided walk takes you from Binn up over the Albrun Pass to Devero or the other way around. On the way there are three culinary breaks and many opportunities for exploring the future cross-frontier park." If this peaks – I mean, piques your interest, then contact Landschaftspark Binntal for up to date info. T: +41 (0) 27 971 50 50; info@landschaftspark-binntal.ch; http://www.landschaftspark-binntal.ch/
---
Ernen and Mühlebach
Situated on the lower flanks of the Binn Valley, Ernen and neighbouring village Mühlebach are an excellent base for exploring the region. For suggested walks, see my full guide here. If you're on SwitzerlandMobility, it's map 6.
Suggested hike | Zauberwald, Ernen: the magic forest for kids
Created for kids, 20 stations have been set up along a nature trail in a beautiful pine "magic forest". There are playgrounds, fortresses, games and a picnic area, as well as an excavation box where kids can dig for minerals and crystals. It's also home to the Gogwärgli Schorsch, a legendary woodland creature. If he's not at home, then kids can leave him a letter in his mailbox. I know the volunteer who dutifully goes to the Zauberwald twice a week to pick up litter, empty the rubbish bin and clean the toilets, so whether you're there or on any trail, don't litter!
Even if you don't have kids in tow, it's an enjoyable, easy walk through pretty forest.
Zauberwald is just two kilometres from Ernen by road in the same direction as Binn. It's not ideal to walk along this road as it is narrow and precarious. To go this way, drive, bike or simply take the PostBus to Wasen-Zauberwald stop. To hike, a high trail leads from Mühlebach along parts of an old, clever irrigation system. The trailhead is at the back of the old village, behind the church. Cross the metal bridge over the small stream and there's the yellow sign pointing up Zauberwald. The trail requires an initial steep climb.
Practical information
There's a lot of information online about the region, but beware, it is messy. Bless the various tourism boards for their enthusiasm, it's like an octopus with all tentacles acting independently trying to do the same task. Want a breakdown? There is Tourism Switzerland, which has suggested hikes scattered throughout the site. The region and its villages are organised and marketed as the Binntal Landscape Park (Landschaftspark Binntal). Don't forget, there are the individual municipalities within the district of Goms, in the canton of Valais, which has another website for good measure. It's all serviced by PostBus. And then there is the Tourism Switzerland website dedicated to the "network for non-motorized traffic". The links are all there should you want to wade through them.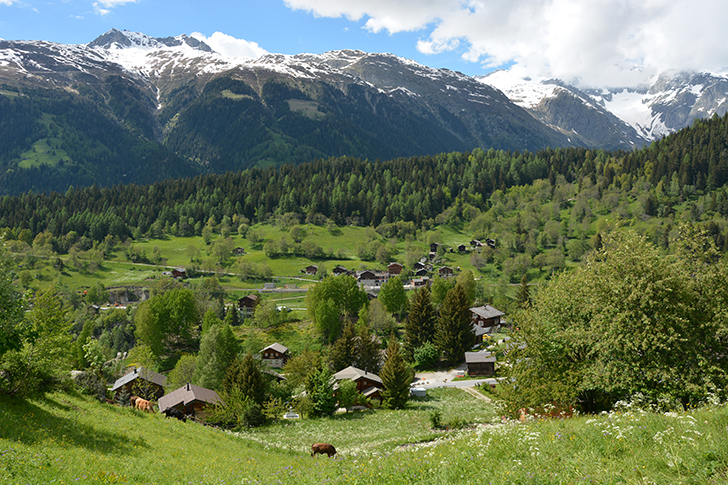 When to go
The hiking season in Switzerland depends on where you are. Generally, it can be anytime between mid-May to late-September, with July and August being the optimal time for alpine hiking. Of course, all this depends on the weather which can be unpredictable. Hikers should be prepared for all-conditions. At high altitudes, skies can easily transform from blistering sunshine to thick fog or rain. Trails are usually well marked but are never to be taken lightly. The terrain and scale require a plan and proper gear.
Pack snacks and more water than you think you need. It's always a good idea to tell someone of your plan.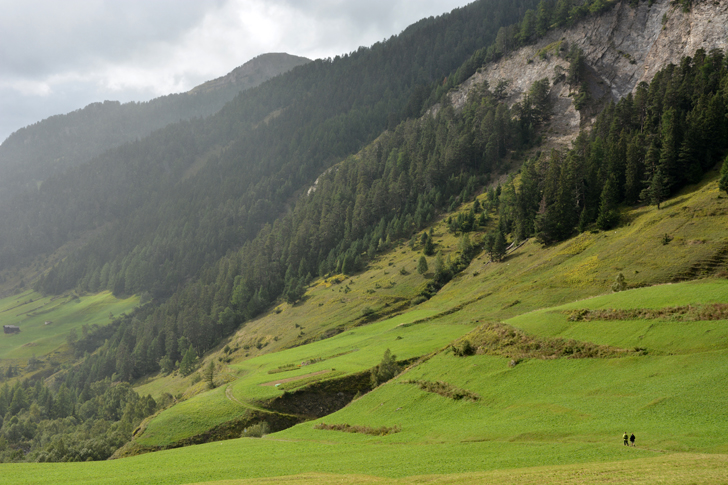 How to get to Binntal, Switzerland
The Binn Valley is serviced by PostBus. Your main gateways are Fiesch or Lax train station (bahnhof). From either station to Ernen, the bus takes around 10 minutes. The schedule is coordinated so the bus usually departs a few minutes after a train arrives.
https://www.postauto.ch/
http://www.sbb.ch/en/home.html
Bold denotes major stops
Fiesch, Bahnhof
Fiesch, Dorf
Fiesch, Abzw. Feriendorf
Lax, Banhof
Ernen, Z'Brigg
Ernen, Niederernen
Ernen, Aragon
Ernen, Dorfplatz
Ernen, Wasen-Zauberwald
Ausserbinn, Wengi
Ausserbinn, Dorfplatz
Ausserbinn, Hubel
Steinmatten
Binn, Langthal
Binn, Dorf**
**bus change here for Fäld
bahnhof = train station; dorf = village; dorfplatz = village square/centre
In the summer months (mid-June to mid-October), there is additional service provided by Bus Alpin, taking passengers to the high alps so people have the option to take in the view, hike over a pass or to hike down back to the village. In July and August, there is also the Breithornbus, a once a week service to Furgge alp (2450m), on a high plateau with an amazing view of the valley. It is breathtakingly expensive, even by Swiss standards. In 2016 an adult ticket is CHF 60.
Binn, Dorf
Binn, Giesse
Binn, Campingplatz
Binn, Fäld
Binn, Brunnebiel