In Laos, sticky rice is the main staple — but if sticky rice is the president of the Lao diet, then noodles are like its running mate. Fresh or dried, wide and flat or thin and round, morning, noon or night, noodles can be eaten as a meal in itself or as a side dish. The vast majority are made from rice and they come in all shapes, sizes and textures. The way they are prepared and eaten can be extremely regional, and this is apparent with the noodles of northern Laos.
Here, noodle soups are the most common way to eat them. They warm and fill the belly and there is nothing as satisfying as a steaming bowl on a cold morning in Luang Prabang, though you'll see locals enjoy it even on the most sweltering days. They are also eaten as cold salads, mixed with a savoury dressing and plenty of herbs, and in nem-style foods, where an assortment of ingredients are rolled into rice paper or lettuce leaf wraps.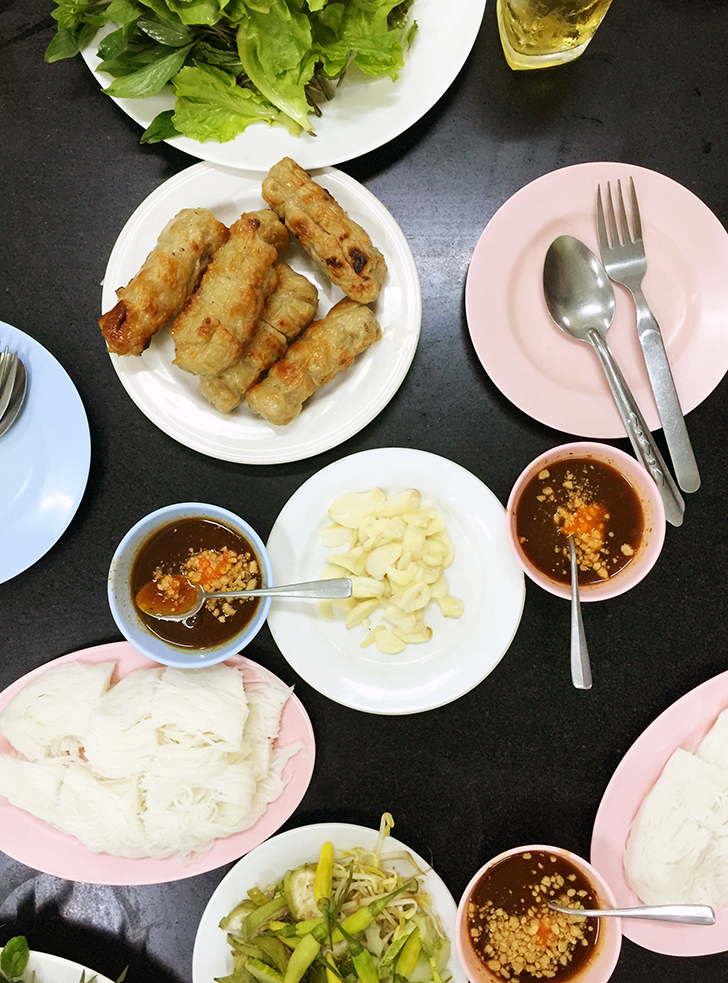 Northern Lao cuisine draws some influence from neighbouring countries, as well as the ethnic minority groups that originated from Thailand, China and Vietnam. However, there are striking differences. Unlike Thai cuisine, coconut milk is not commonly used, and while beef is heavily favoured in Vietnam, the main meat here is pork and river fish.
A distinctive characteristic of Lao noodle soup is what is added by the diner after the bowl is served. Hands down, Laos wins the award for most condiments and herbs. A good soup joint will deliver a bowl with a veritable garden on the side, a whole basket of raw greenery like mint, Thai basil, sawtooth coriander, cilantro, Vietnamese balm, cabbage, watercress, leafy lettuce, bean sprouts, snake beans, pea shoots, slices of cucumber and wedges of lime. The only thing that is definitely not green are the fiery red bird's eye chilli. A bowlful is at every table and beware, it's all sorts of hurt packed into a pepper the size of a mini Christmas lightbulb.
Before you begin slurping, condiments must be added and locals will work their way through the motley of jars and bottles on the table: fluorescent red sweet chilli sauce, ubiquitous Maggi seasoning, soy sauce, fish sauce, pickled ginger, pickled garlic, white vinegar, chilli infused vinegar, white pepper, sugar, MSG and/or super funky shrimp paste.
So how can you tell khao soi from khao piak and khao poon? Where can you tuck into the best Lao feuhr? Here's a breakdown.
---
Noodles of northern Laos
Khao piak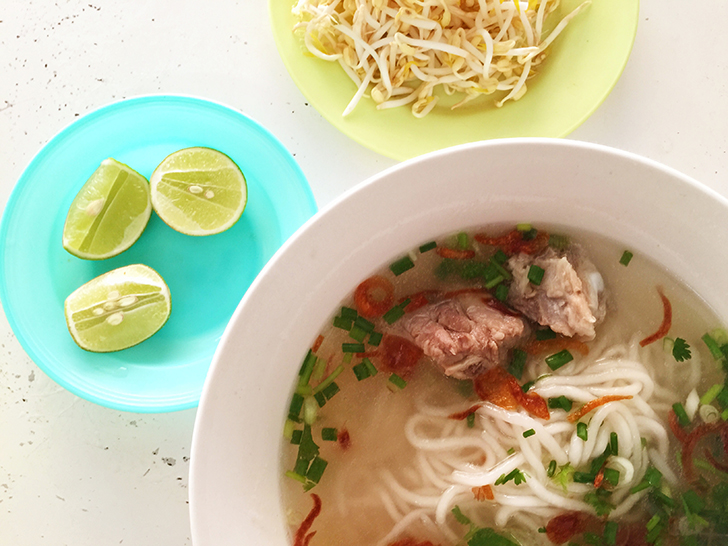 Khao piak sen is unique to Laos and it's my favourite, my soothing soul food. Literally translated as "rice wet", it's a fresh noodle, thick and round (like Japanese udon), made from rice flour and tapioca flour. It has that fresh pasta texture – slightly elastic, firm and chewy.
They are made in the wee hours of the morning and sold daily in great heaps at the market. The individual strands are coated with starch to keep them from sticking. The noodles are often cooked directly in the stock which adds a pleasant thickness to the comforting soup.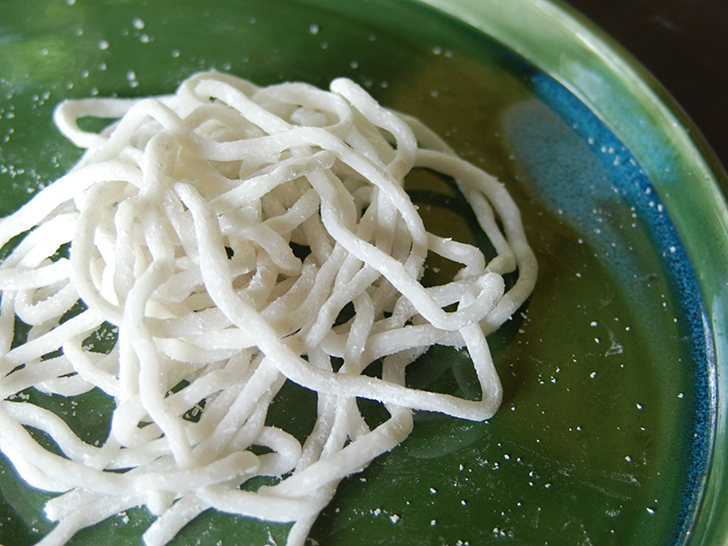 Where to try khao piak
Luang Prabang: Xiengthong Noodle on Sakkaline Road (the main street) across from Wat Khili. The menu is simple and translated into multiple languages, which manages to stop tourists from all parts of the globe dead in their tracks: khao piak with pork, with egg, or with pork and egg. The latter is my favourite, especially when the egg is just poached and scrambling the yolk into the hot broth with your chopsticks adds another dimension of richness, already thickened from the starch. Their bowls are topped with deep-fried slices of garlic, morning glory and a dash of black pepper. Add lime, sprouts, pickled ginger and if you like, crumble in some rice crackers. This joint opens longer than most, usually until 15:00.
Vientiane: This khao piak shop was one of the highlights of my year living in the country's capital city — just the thought of this noodle soup gets me salivating. Their noodle soup comes with crispy fried shallots and sensational pork short ribs with tasty, tender fall-off-the-bone meat. It's located 1.5 kilometres from the city centre. Head up Lane Xang and turn right on Dongpalane Road, travelling 550 metres; it's across from All Time Travel Agency. If you've hit the shop selling yellow and silver stupas, you've gone too far. The soup normally comes with cubes of blood which is an acquired taste. Tell them "baw sai leua" if you don't want it. They also serve mee luang, soup with yellow noodles and roast duck (see section below).
---
Khao soi, Luang Prabang-style rice noodle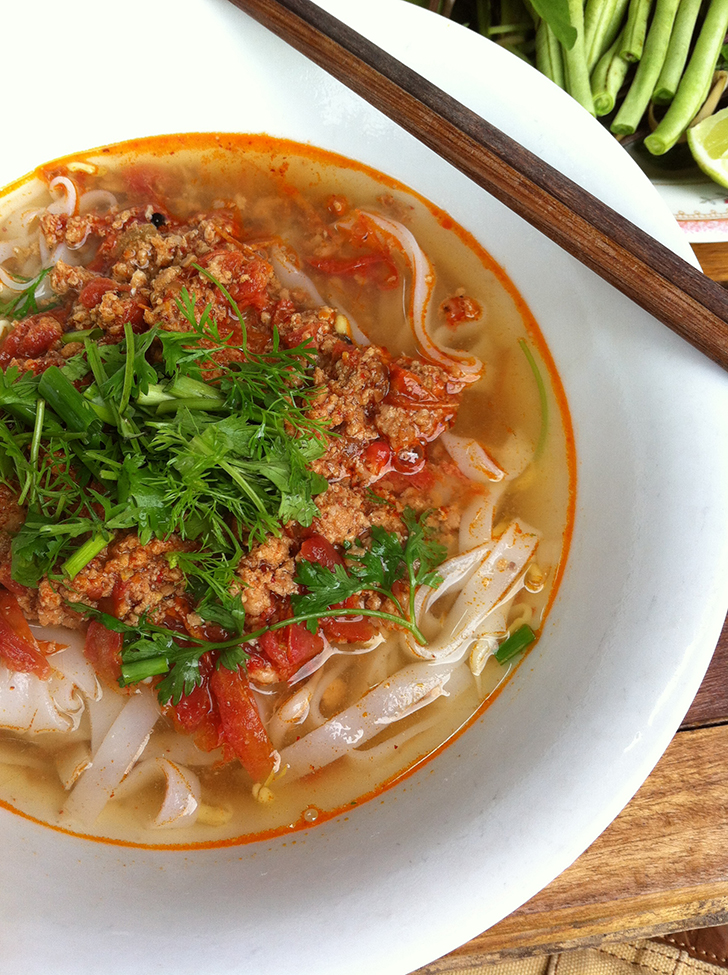 Though there is some debate on where the name originates from, in the Lao language khao does mean "rice" and soi means "cut" and so it is a sensible theory since fresh hand-cut rice noodles are essential for khao soi, Luang Prabang's signature noodle soup. Given their girth, the noodles are also referred to as sen nyai or "big noodle".
Not to be confused with the completely different Chiang Mai khao soi, Luang Prabang khao soi uses a clear pork stock and it is topped with a bolognese of mince fatty pork, tomatoes, chilli and fermented soy bean paste which gives it a bright red hue.
Before eating, it's customary to sink in some watercress, Thai basil, mint and a squirt of lime.
Where to try khao soi
Chopsticks down, the best khao soi is in Luang Prabang is at Pho Wat Sen, located on the main street across from Wat Sen temple. You can't miss the blackened vats of stock bubbling away over hot coals. The shop's exact recipe for khao soi can be found in Friends-International's Lao cookbook "From Honeybees to Pepperwood".
When: Don't delay. The shop sells out as early as 10:00 and nothing is more disappointing than seeing their "Finished Finished" sign.
Further afield, if you are in Muang Sing in Luang Namtha Province, the northwest corner of Laos, visit the ethnic Tai Neua village Ban Siliheuang to see them making the noodles which they still cut by hand. Get there before 07:00 as production is finished by the time the sun rises.
---
Khao poon, fermented rice vermicelli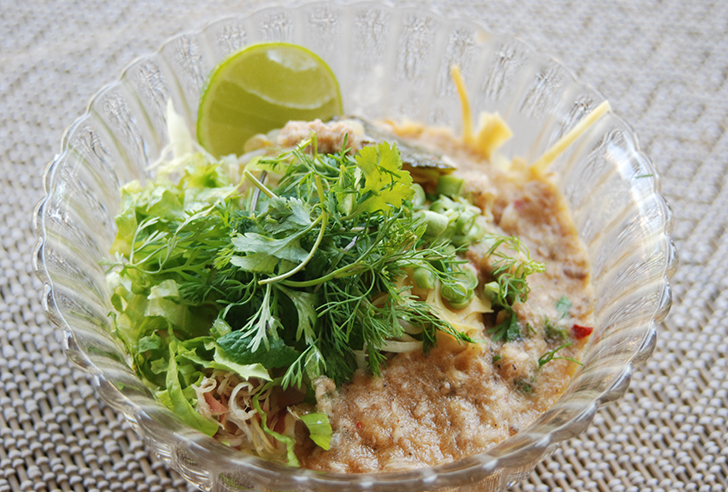 If you had to name a signature noodle for Laos, khao poon would be it. Khao poon (bun in Vietnamese) is fermented rice vermicelli. The noodles are thin and round, the thickness of skinny spaghetti, and they are sticky to the touch with a slightly soured aroma. Eaten all over the country, it is especially popular for feasts and celebrations, used as an ingredient in phan dishes, where everyone makes their own rice paper or lettuce wraps with meat, herbs and sauces. There are different types of khao poon noodle soups; a curry of pounded fish, coconut milk and kaffir lime leaves is the most common.
The noodle is made and sold fresh daily and how it's made is a fascinating process. Learn all about it in my story Khao poon, the noodle of Laos.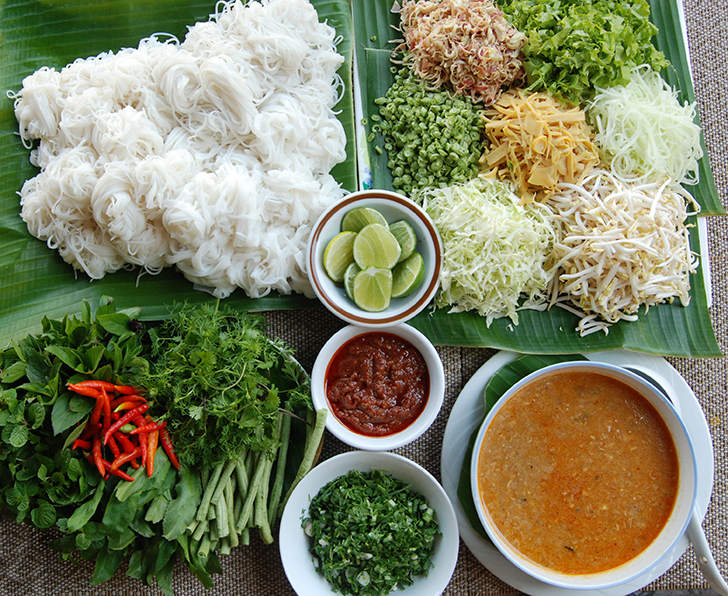 Where to try khao poon
In Luang Prabang there's a small shop on the main street (Sakkaline Road) across from Villa Santi Hotel. There's another on the Mekong River road behind the National Royal Palace Museum. Find it on the menu at Manda de Laos, a gorgeous restaurant situated one of the town's UNESCO protected ponds. Friends-International restaurant Khaiphaen also has a tasty version on their menu. Learn the traditional way to make khao poon with the Rice Noodle Experience, a fun half day workshop on a farm 20 minutes from town. http://www.bananaboatlaos.com/culinary-tours.html
---
Lao feuhr rice noodles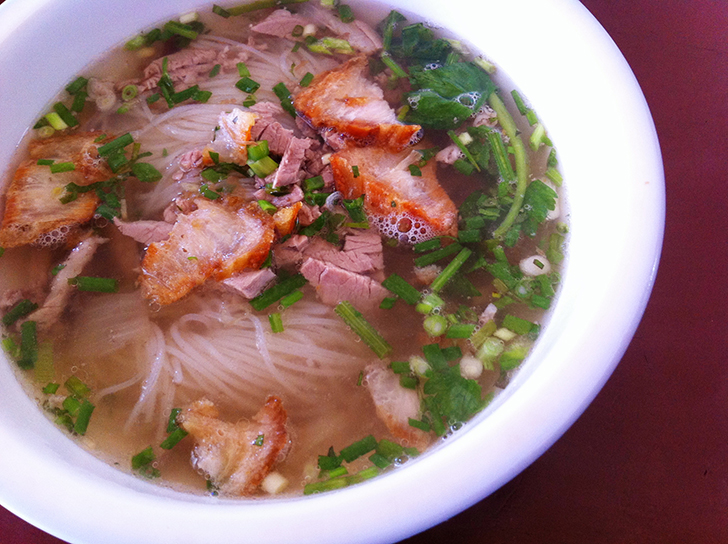 You're probably familiar with Vietnamese pho but Laos has their own version, using the same dried, thin, flat rice noodles that become semi-transparent when cooked.
In northern Laos, Lao feuhr broth is usually made with pork bones and served with pork or chicken. With the exception of Vientiane, beef is a luxurious import and not readily available; if beef is an option, it is probably water buffalo. Add condiments, tons of herbs, sprouts and lime. The raw snake beans, lettuce and whole chilies are dipped in jeow (a dip) or pungent shrimp paste and eaten separately.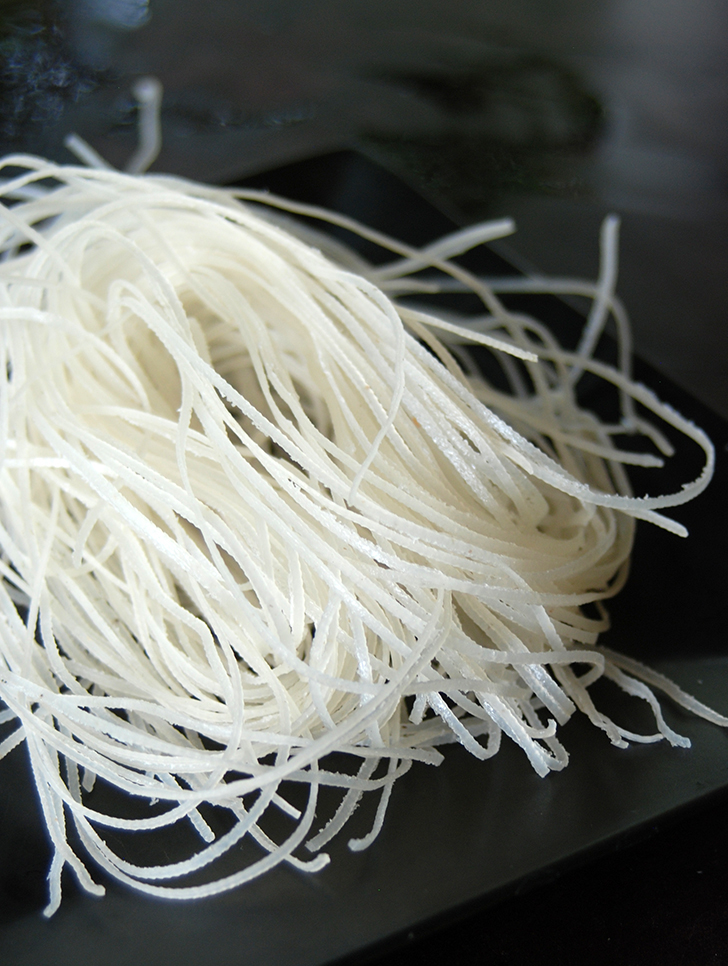 Where to try Lao feuhr
I detailed the best Lao feuhr in Luang Prabang here. This shop serves up big portions topped with crispy pork and I urge any traveller to find it. The shop is on Phou Vao Road across from the Department of Finance. Served until it's all gone, usually around 12:30. There's also Pho Wat Sen, on the main street across from Wat Sen temple.
Vientiane has several pilgrimage-worthy Vietnamese-style pho shops. Longstanding Pho Zap on Phai Nam Road, down the lane from That Dam stupa, is a local favourite serving up beef pho with a broth redolent of star anise and cinnamon. Open from 06:00-15:00.
Another goodie is PVO Noodle Soup, just 500 metres from the Talat Sao central bus station, across from Vientiane Centre Mall.
---
Senlon, bean vermicelli / glass or cellophane noodles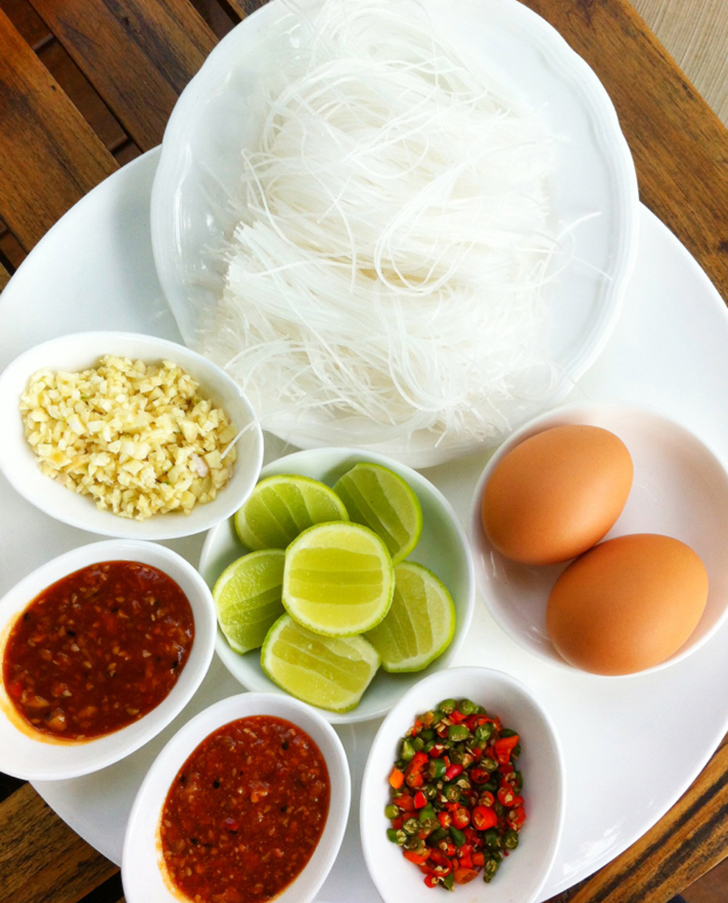 Senlon or cellophane noodles are used all over Asia. They are thin dried noodles made from starch like mung bean flour, and are tough and brittle out of the packet but they need only to be soaked in hot water to be cooked and softened. They are extremely bland and therefore good at picking up sauce and flavour, perfect for cooking in sindad, a Lao barbecue experience that is a cross between Chinese hot-pot and Korean barbecue. Cellophane noodles are also made into salads.
Where to try senlon
The sindad scene in Luang Prabang fluctuates, with places opening and closing and quality changing — it's best to ask locals for a recommendation on what's the best place du jour.
---
Mee luang, egg noodles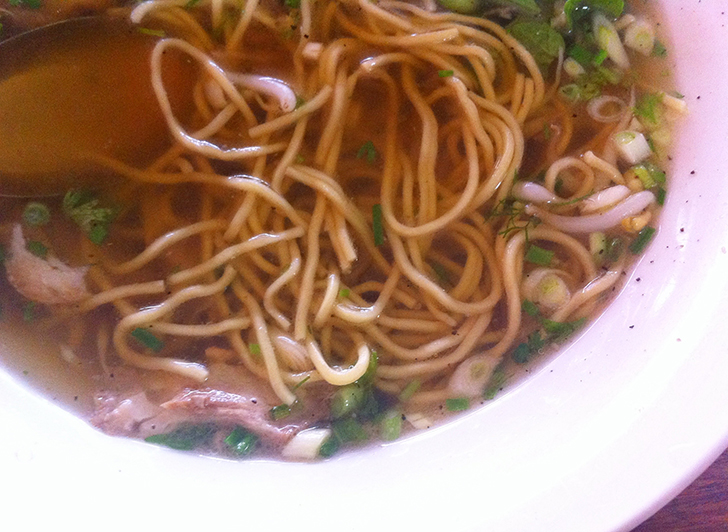 Originating from China and commonly found across Asia, mee luang is made with egg and wheat flour. These yellow noodles are served in a clear meat broth, usually with roast duck, barbecue pork or wontons.
Where to try mee luang
There's a shop on Manomai Road. Head south on Kitsalat Road past Dara Market and Amantaka Hotel and turn right at the roundabout. It's a few shops down, across the street from cheap stir-fry eatery Atsalin.
In Vientiane, the khao piak shop I recommended (above) also does a delicious mee luang noodle soup with roast duck.
Have a favourite noodle shop/restaurant in Laos? Add it in the comments.