A mouthwatering look at khao poon, the noodle soup of Laos.
A glance through my Instagram feed reveals my daily obsession in Laos: noodle soup. For me, there's nothing better than a bowl of noodle soup to start the day, to cure a hangover or meditate over the next story idea. In fact, noodle soup is my favourite food in Laos – and I'm not alone.
Toui Somphonpakdy is owner and chef of Cafe Toui, a small popular restaurant in Luang Prabang. For six years Toui has cooked up delicious local dishes at his cafe like larb, curries and Luang Prabang Salad. But he says his personal favourite is noodle soup, and above all khao poon, a noodle soup his mother taught him how to make. You can imagine my joy and excitement when Toui made his version for me so I could learn more about it.
Sen khao poon | fermented rice noodles
Sen khao poon (sometimes spelled kao pun or kapoon) is fermented rice vermicelli. Round and thin, the noodles are the thickness of skinny spaghetti. A mixture of rice and water is fermented for a few days before being pushed through a mold into boiling water. They are sold fresh daily, found in great sticky heaps at the market. Take a whiff and you'll smell a slightly soured aroma.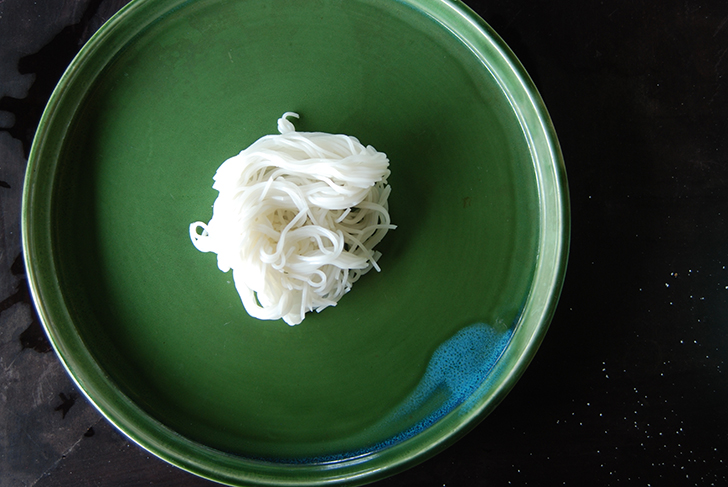 Khao poon noodles are also used in phan and nem dip. Phan dishes are where you take a leaf of lettuce and make your own wrap with pieces of meat, noodles, thinly sliced banana blossom, herbs and sauces. Nem dip are pre-made rolls, with the stuffing all mixed together like a noodle salad. Both are a popular way to feast with family and friends.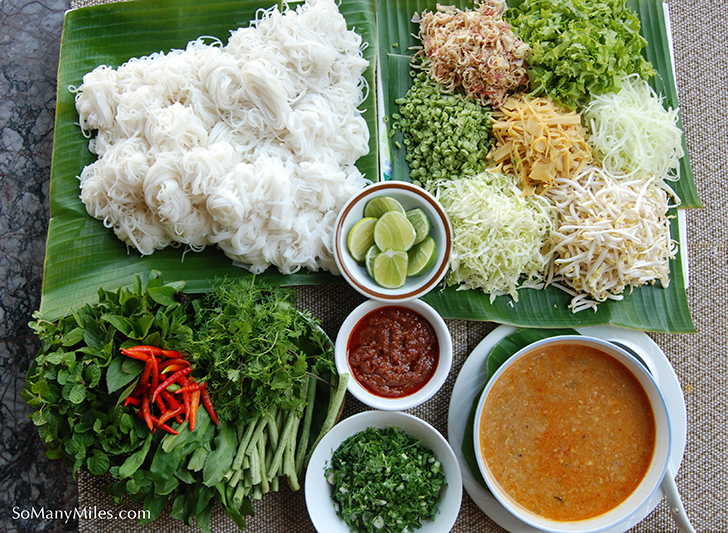 Khao poon, the noodle soup of Laos
Khao poon is found throughout the country. Sometimes it's described as "Lao laksa" since it has a similar fish flavoured coconut curry soup. In the Lao version, pounded fish is boiled with kaffir lime leaves, galangal, coconut milk and pork fried with chili creating a fragrant and delicious broth.
But it's not done yet. Once the hot stew is poured over the noodles, it's topped with a whole bunch of vegetables and herbs for a make-your-heart-sing medley of textures and fresh flavours.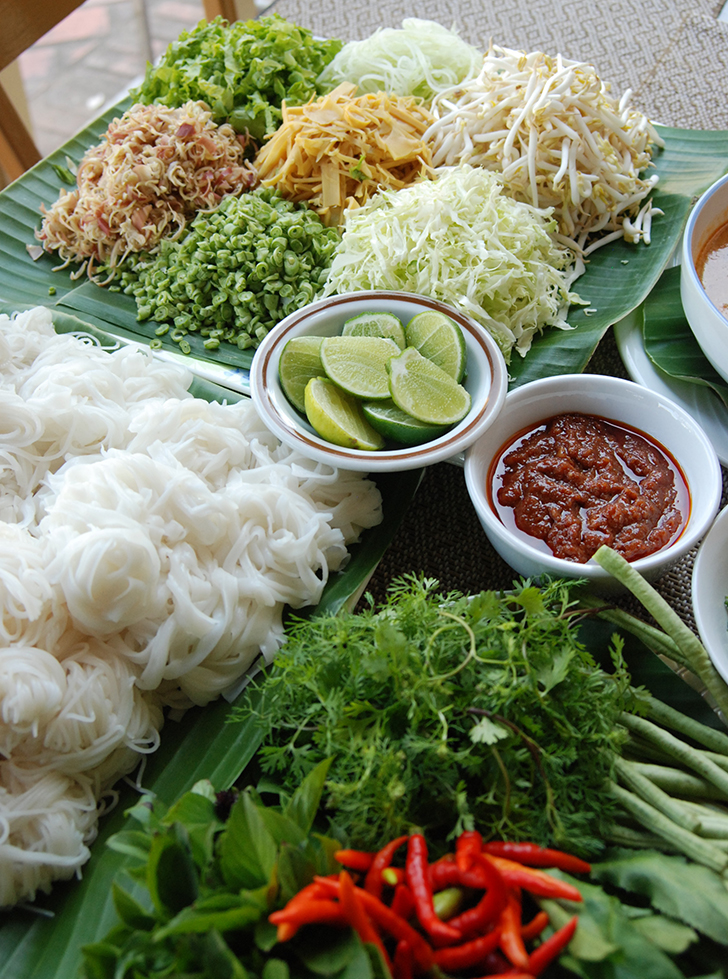 The possibilities are endless: shredded lettuce and cabbage, finely diced raw snake beans for crunch, banana flower, lemongrass, cooked bamboo shoots, bean sprouts, Thai basil, cilantro, sawtooth coriander, mint, green onions and a squirt of fresh lime.
Khao poon in Luang Prabang
There's a small shop on the main street (Sakkaline Road) across from Villa Santi Hotel. There's another on the Mekong River road behind the National Royal Palace Museum. Friends-International restaurant Khaiphaen also has a kick-ass version on their menu.