Nam khao, Lao crispy rice salad, is a popular local dish eaten with your fingers and shared with family and friends. I've written all about nam khao in a previous post, and now here's the recipe for this tasty eat. 
NGO Friends-International have an excellent recipe for nam khao in their Lao food cookbook From Honeybees to Pepperwood: Creative Lao Cooking with Friends. They've kindly granted me permission to republish it. You can buy the book at any of their six restaurants in Cambodia and Laos, including their newest training restaurant Khaiphaen in Luang Prabang.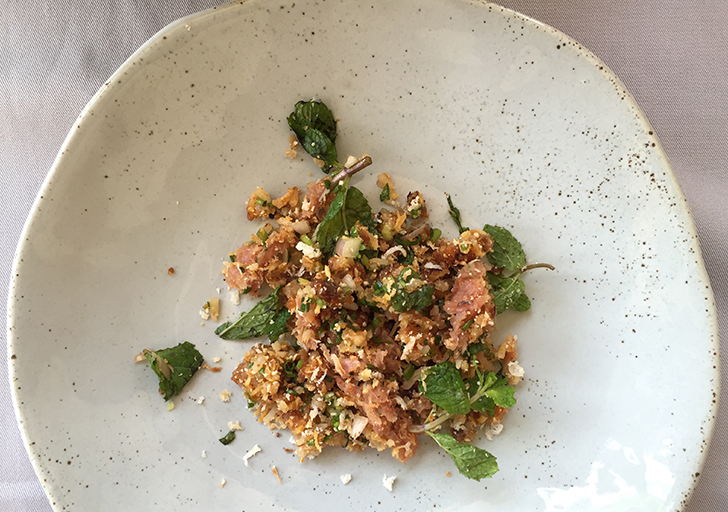 They suggest any good quality pork sausage to substitute Lao sausage or traditional sour pork som moo. And it's also ok to leave out the boiled pork skin, perhaps using bacon or ham instead. This dish is a sure crowd-pleaser. Enjoy!
Recipe for Nam Khao – Lao crispy rice salad | ແໝມເຂົ້າ
Friends-International's Spicy Crispy Rice Dumplings and Pork Sausage Salad with Coconut
Serves 3-4
Rice dumplings ingredients
300g steamed jasmine rice
50g cornstarch
4 garlic cloves, finely chopped
2 shallots, finely chopped
50g shredded coconut
1 tbsp chilli powder
2 eggs, beaten separately
2 tbsp water
Sunflower oil for deep-frying
Salt to taste
Salad ingredients
*80g boiled pork skin, thinly sliced
50g ground roasted peanuts
100g good quality pork sausages (Lao sausages if possible)
3 tbsp lime juice
2 tbsp fish sauce
1 tbsp sugar
5 green onions, thinly sliced
Half a bunch of coriander leaves, roughly chopped
5 long chilies, fried until crispy
A variety of fresh green leafy vegetables, such as betel leaves, banana flower leaves and mustard greens.
*Our Tip: If you don't like the idea of boiled pork skin (and many people don't) you may use crispy pieces of bacon or ham instead. Alternatively, feel free to do without any replacement at all, as this dish will still taste just as good.
How to prepare the rice dumplings:
Place the steamed rice, shallots, garlic, chili powder, coconut and one beaten egg into a bowl, season with salt and mix well. Using your hands, shape the dumplings into 2cm balls and set aside.
Combine the cornstarch, the other beaten egg and water together and stir well. Dip the dumplings, into this mixture one by one, then deep-fry in sunflower oil for around 3 minutes, or until golden brown. Once cooked, drain the dumplings on a paper towel and set aside to cool.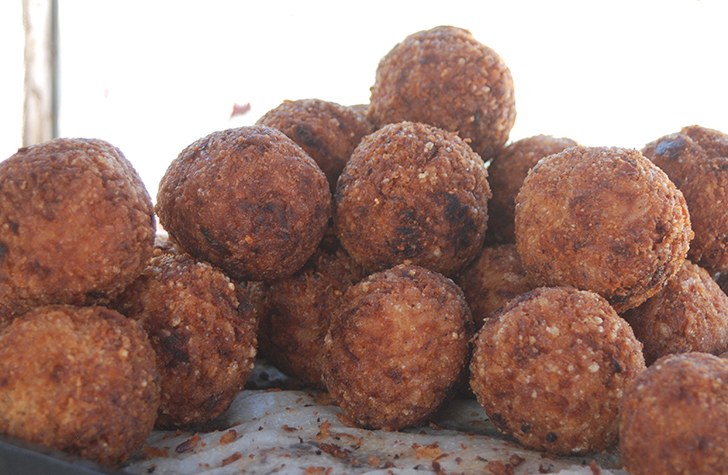 How to prepare the salad:
Once the dumplings have cooled, cut each dumpling into quarters. Place the dumplings into a large bowl and mix together with the sliced sausages, pork skin, fish sauce, sugar, lime juice and peanuts. Add the green onions and coriander and toss the salad well.
Serve on a large plate and garnish with crispy long chilies. Arrange an assortment of green leafy vegetables to accompany the salad on the side.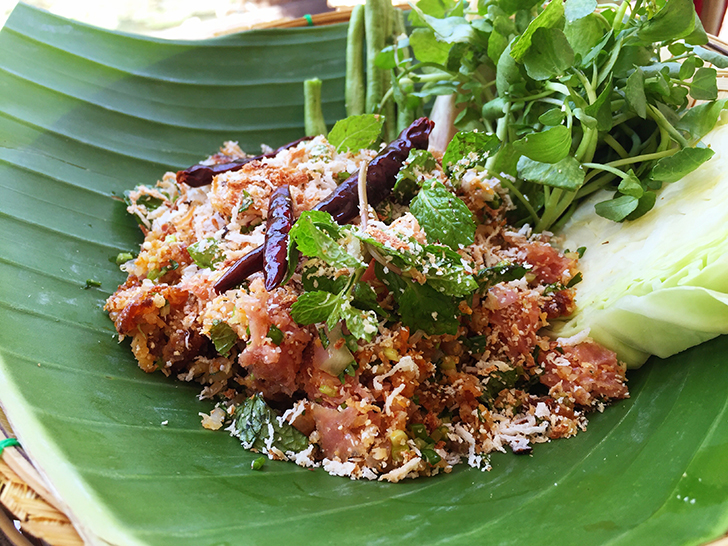 How to eat it:
Spoon a small amount of salad into the centre of a green leaf. Fold in the sides, roll up tightly and enjoy this truly authentic dish.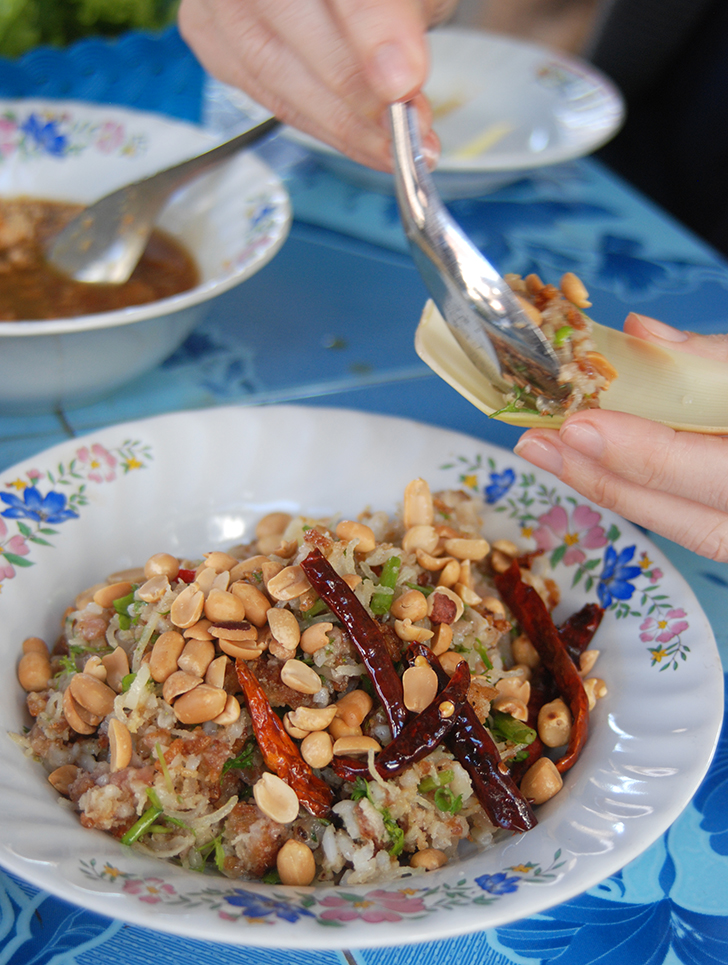 Recipe courtesy of © Friends-International, 2011.