At first glance, "Luang Prabang salad", one of Luang Prabang's local signature dishes, looks rather ordinary. It doesn't have an insane amount of chilli on top, nor does it contain water buffalo skin, fermented fish or animal paws. Called yam salat in Lao, this delicious fusion salad is made with lettuce, cucumber, tomato, watercress, mint, coriander and spring onion. It's topped with chopped peanuts, slices of boiled egg, crispy shallots and a distinct sweet and creamy dressing. Today, Luang Prabang salad is an integral part of local cuisine as it is often served at weddings and other celebrations.
"Mint, coriander and spring onions – these three ingredients are what make Luang Prabang Salad so tasty," explains Chef Somsack, Executive Chef at Blue Lagoon, a popular restaurant in Luang Prabang that serves both Lao and European food. "This is the perfume and the flavour. This is what is different and gives it its own character and taste."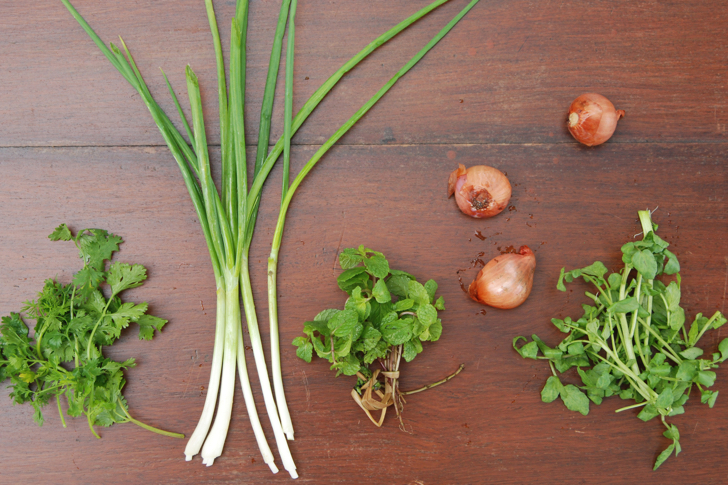 The French colonial influence on this dish is clear and over the years it has continued to evolve. Laos was brought under French control in 1893. The colonisers always kept Lao monarchs on the throne but instilled "notions of French superiority and sophistication" (Heywood, Denise. Ancient Luang Prabang. 2008). The Princes and Lao elite were all educated in France and adapted French tastes.
A cold salad with a rich, creamy dressing made with egg is borrowed from the West. Yet lettuce, peanuts, local watercress, cucumber, mint, coriander and spring onions are staples in Lao cuisine, finding its way into almost every meal. The sweet and sour of the dressing balances the pepperiness of the watercress perfectly.
Chef Somsack is passionate about preserving the traditions of Laos. An avid photographer, he photo blogs local life, food and culture on Luang Prabang Moradok. The Luang Prabang Salad you will be served today at a restaurant is different from the traditional way, he explains. Traditionally, the lettuce and herbs are topped with sliced boiled egg, fried minced pork and peanuts. The simple dressing is made of lime, sugar, salt, pepper and a bit of the oil from the fried pork. The ingredients are meant to be soaked and soggy, a contrast to the Western notion of what a salad should look like. He fondly recalls eating it at home growing up.
"It was in a plate like this," he says, opening his arms wide. "If we have Luang Prabang salad it means this night for dinner, we only eat Luang Prabang salad with rice. I don't know, it was maybe a five-kilo salad for everybody. 15 or 20 eggs, and a lot of mint."
But can this fusion dish be considered part of local culture? Chef Somsack believes so.
"Food is culture. It's very interesting to see how its come this far."
Blue Lagoon's Luang Prabang salad
Luang Prabang salad is refreshing and easy to make, a perfect lunch on a hot day. Simply prep and assemble. Chef Somsack has kindly shared Blue Lagoon's contemporary version.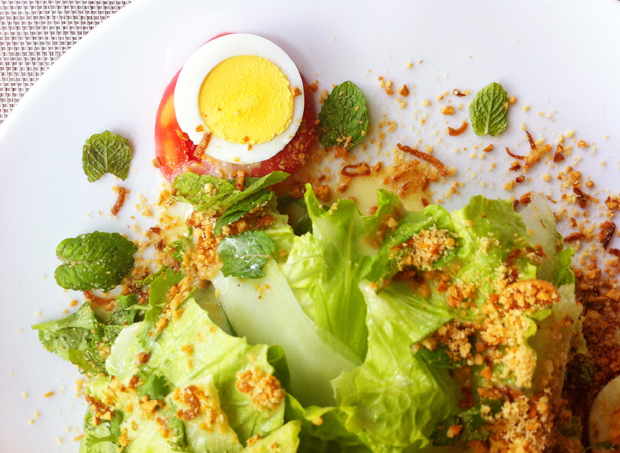 Ingredients
lettuce (a crisp, bland variety works well such as green looseleaf lettuce, iceberg or romaine)
sliced cucumber, skin off
sliced tomato
watercress
mint
coriander
sliced boiled egg
spring onions or shallots
finely chopped roasted peanuts
Prep
Dry roast the peanuts in a hot pan, cool and finely chop.
Wash the lettuce, watercress, mint leaves and coriander.
Peel and slice the cucumber.
Slice the tomato.
Slice up the boiled egg.
Thinly slice shallots into half moons for fried crispy shallots topping.
Fried Crispy Shallots Topping
Thinly slice shallots into half moons. Fry them in oil until dark golden brown. Drain on a paper towel. Another popular topping is fried crispy garlic (same method described except with slices of garlic).
Dressing
Chef Somsack uses rice vinegar flash heated in a pan, which removes the strong acrid smell and taste, instead of using lime. Lime juice goes bitter over time so don't use it unless you're eating the salad right away.
In a blender, combine boiled eggs, rice vinegar that has been heated and cooled, a little bit of oil, onion and garlic, salt and pepper. Blend until smooth, creamy and liquid. Don't use too much oil – you can always add more to correct consistency. For a richer dressing, use only the boiled egg yolks instead of the whole egg.
Assembly
On a platter, lay the leaves, cucumber, tomato and egg. Sprinkle with peanuts. Top with crispy shallots or chopped fresh green onions. Drizzle over the dressing. Serve immediately and enjoy a taste of Laos.