LUANG PRABANG, Laos – I'm going to let you in on a secret. A delicious, delicious secret.
For years I've kept the best noodle soup in Luang Prabang to myself. I've carefully guarded this place – I didn't want tourists who wear elephant pants to find out. Once someone won my love, trust and affection (and once they signed a non-disclosure agreement), only then would I bring them.
"First rule of this noodle soup shop: we do not talk about this noodle soup shop…"
The time has come to not be so selfish and share with the world what I think is the best noodle soup shop in Luang Prabang.
This popular joint serves up Lao-style pho (pronounced "feu") with crispy pork in a delicious homemade broth. Locals flock here for breakfast or a lunch treat.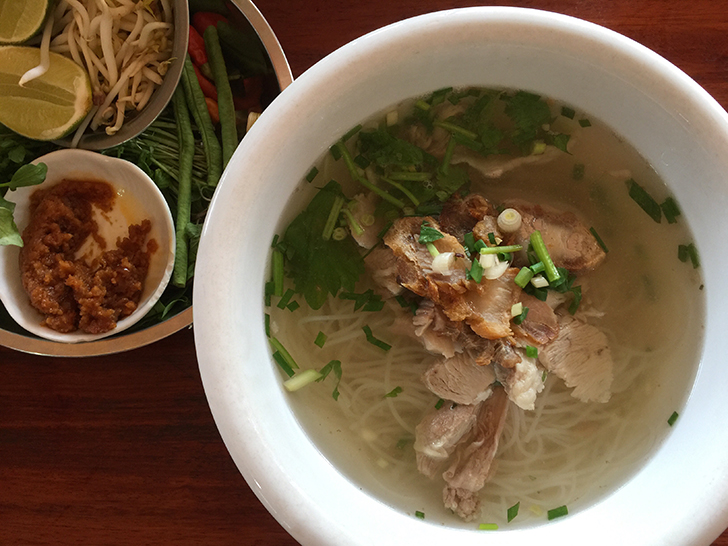 Once the enormous steaming bowl arrives, locals will spend the next five minutes adding every single condiment on the table for their own grand blend of hot, salty, sour and sweet. And don't forget about the greenery. You'll get the requisite bowl of herbs and ruffage – mint, Thai basil, Vietnamese coriander – plus chilli, bean sprouts, limes and jeow sukee, a kind of peanut satay dip that I've nicknamed jeow crack. It's addictive and I'd go so far as to say that it makes me a little high with joy. Dip and snack on the raw snake beans and dunk your pieces of crispy pork.
And let's not forget about the ambience. This is the type of place with discarded lime wedges on the floor, bits of bean sprouts on the chairs and every time the fan passes, tissues go flying. There's always Lao music videos playing, usually featuring a woman singing in a rice field about love or a man warbling about love as glammed up backup dancers in silky sinhs sway from side to side. It doesn't get more local than this. At the end you'll be wiping sweat from your brow, toothpicking green stuff from your teeth and patting your satisfied tummy.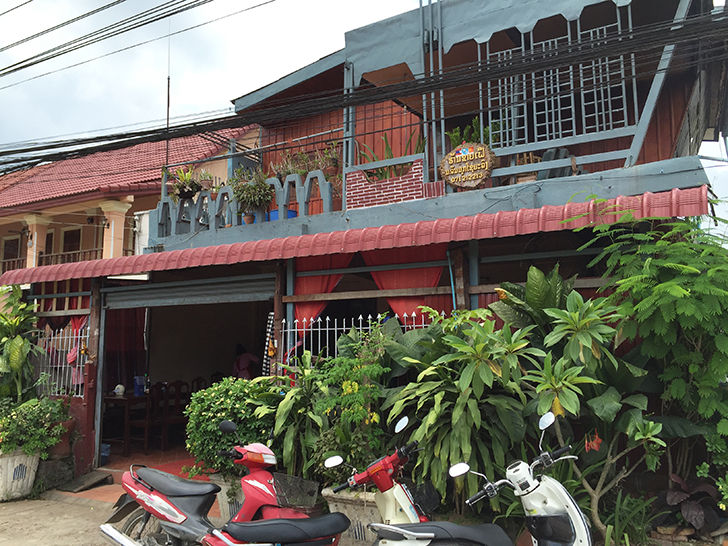 This family run pho shop is on Phou Vao Road, to the left of Haysoke Hotel and across the street from the government Finance department building. The shop is a bit hidden behind vines and planters. From the town centre, head out down the main street and turn left at the gas station. The owner speaks Lao, French and some Chinese.
Opening hours: early until they sell out, approximately 12:45 pm. 20,000 kip/bowl