The Seychelles conjures up images of white sand beaches, windswept palms and turquoise waters, a postcard perfect tropical paradise. Having spent five weeks exploring the islands, I can tell you: it's true. It also brings to mind the ultra-luxurious resorts with a price tag that would send the average person reeling. Travelling to the Seychelles on a budget seems impossible. However, you might be surprised to hear this: The Seychelles can be affordable. 
Did you know, there are numerous self-catering villas and chalets available that start at 70 Euro a night. It may not be North Island, the most expensive resort in the world, but you can have a week in paradise without having to get a second mortgage. The Seychelles on a budget is possible – here's how.

1. Introduction: Seychelles on a budget
If you want an affordable holiday in the Seychelles, then self-catering is the way to do it. There are a number of villas, chalets and bungalows that are basic, homey but serviceable, usually with a kitchen and within walking distance to a beach. By making your own meals and bringing with you some food and alcohol (within the country's custom import laws and alcohol allowance), you'll save buckets of Seychellois rupees.
All beaches on Mahé are public access. There are no beaches exclusive to hotels or resorts so you don't need to spend $1000 a night for a beach vacation.

Picture yourself here. Anse Forbans beach, Mahe Island, Seychelles

There are direct flights to Victoria Airport (Seychelles International Airport) from Johannesburg, Nairobi, Abu Dhabi and Dubai – all under five hours. The Seychelles can be an easy add-on to your safari or a getaway from the UAE.
It's important to be realistic though. The Seychelles can be affordable but these are not backpacking prices; it won't be cheap. Almost everything is imported, with the exception of locally caught fish, limited fruit and veg, beloved SeyBrew Beer, Takamaka Rum and bottled water. If you don't want to cook while on vacation, then look at my "Money & Costs" section to be realistic about whether Seychelles is even feasible. My advice is for the more budget conscious, independent kind of traveller.
Travel Tip: The Seychelles is also not a place you can show up and hope for the best. At the airport upon entry you will have to show proof you've booked accommodations plus an onward ticket.
2. Budget accommodations in the Seychelles
Accommodation will be the biggest expense while on the island. A five-star resort in the Seychelles starts at $1,300 USD a night, NOT including food.
There are a number of self-catering villas, apartments and chalets available on Mahé, Praslin and La Digue island from 70-150 EUR a night. They will be basic but serviceable and should have air-con, housekeeping and a kitchen with equipment. There are some within walking distance to a beach and a shop, and even an ocean view. Check out my article "Affordable Accommodations in the Seychelles" where I review three chalets on Mahé. Also look at the Tourism Board's registry.

3. Getting Around: Transportation on Mahé
Bus: By far the cheapest way to get around Mahé is with the Seychelles Public Bus. Buses run frequently and stops are marked in paint on the road. The fare is 5 SCR. Warning: a ride on the public bus is not for the faint of heart. These old Tata beasts barrel down the road and fly around corners. Find the bus schedule here.
Bipedal power: Mahé's windy roads are narrow, have blind turns and they lack sidewalks or shoulders. I don't recommend walking and cycling.
Rent a car: If you're a good driver, then renting a small car is by far the best way to explore the island and it's surprisingly affordable, especially when compared to the cost of a taxi. Just get a map and go. They drive on the left side of the road in the Seychelles but you'll quickly discover this is more of a suggestion than a rule. Drive carefully and take it slow.
I rented a small car for 650 SCR (55 USD; 40 EUR) per day. Though it was slow going up the mountain passes, it did the job and was nimble enough to squeeze by the crazy Tata buses hogging the road.
Petrol prices fluctuate wildly. In July 2014, it was 1L = 22 SCR. For two full days of touring around Mahé in a small car I only used half a tank of gas which cost 300 SCR (25 USD; 20 EUR).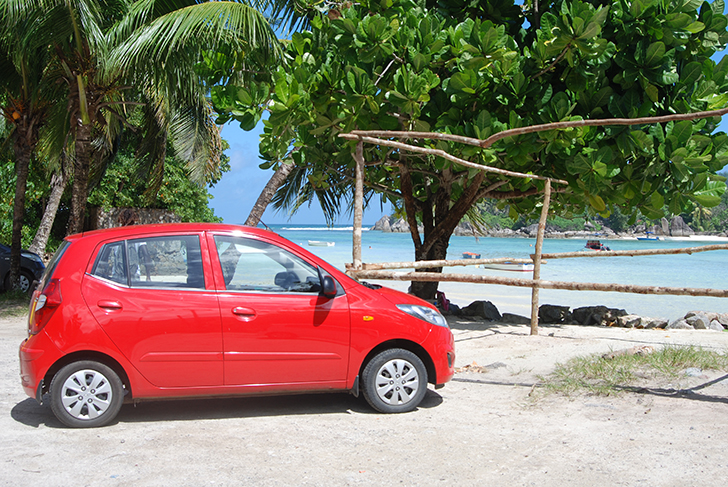 Taxis in the Seychelles are ludicrously expensive and you'll save a lot of money by avoiding them. The legal taxi association (mafia) have a pricing chart. A half-day trip can easily cost you over $150 dollars. Consult your chalet about the cheapest airport transfer option (taxi, local bus, car rental from the airport).
4. Money & Costs: Food, Restaurants and Shopping on Mahe
Grocery stores and fresh markets are extremely limited. There are big grocery stores in Victoria and each town will have a shop that will have the basics. Try and bring as much stock for your meals as possible – just be careful about the ingredients. Customs laws forbid animal and animal product, plant and plant parts. Bringing your own alcohol will also save you money. The duty free allowance is 2 L of spirits and 2 L of wine per person.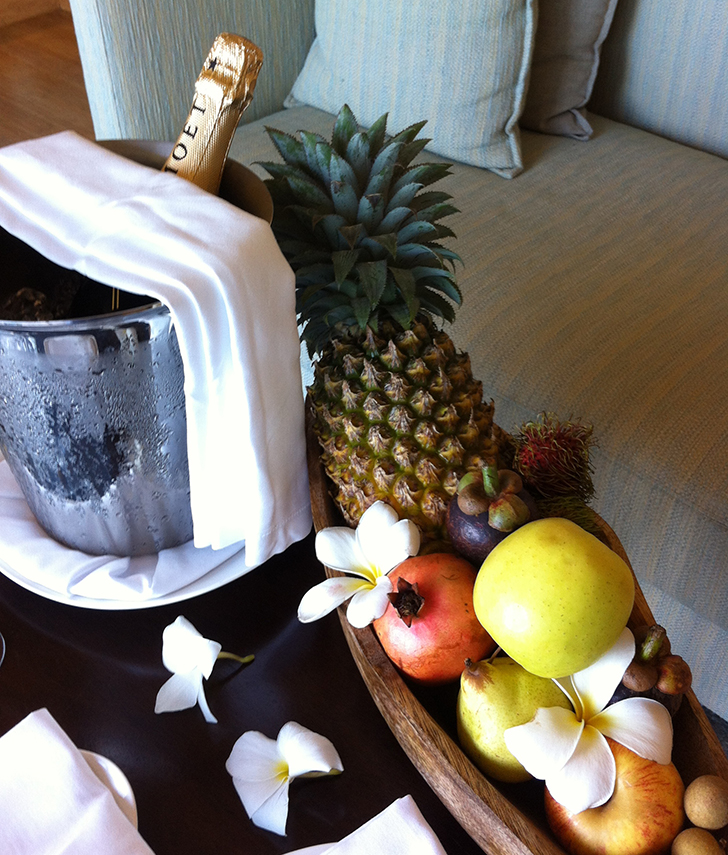 You'll discover self-catering is in fact sometimes a necessity as there are few local restaurants and they have erratic hours, opening and closing whenever they feel like it. Dining at hotels and resorts is always an option but at hefty prices. See below.
**Index of prices**
[price shown in Seychellois Rupee SCR / USD]

At a shop
330 ml can SeyBrew Beer = 24 SCR / $1.92
280 ml bottle SeyBrew = 18 / $1.50
50cL of bottled water = 8 / $0.75
1L of bottled water = 12 / $1
1L of fruit juice = 18 / $1.50
Box of cereal = 110 / $9.20
Bag of pasta = 32 / $2.70
1 Egg = 4 / $0.34
1L Milk = 19 / $1.60
Brown Bread = 50 / $4.20
Oranges per KG = 18 / $1.50
Papaya per KG = 45 / $3.75
Bananas per KG = 32 / $2.70
1 bag of potato chips = 32 / $2.70
1 chocolate bar = 14 / $1.20
At a local restaurant
355ml can of Coca Cola = 35 SCR/ $2.95
Glass of wine = 40 / $3.35
1L of bottled water = 45 / $3.75
330ml can SeyBrew Beer = 35-55 / $2.75-$4.60
Cocktail = 110-165 / $9.20-$13.75
Pizza or plate of pasta = 120 / $10
Small salad = 50 / $4.20
Burger = 140 / $11.70
Main (meat, rice, salad) = 200 / $16.75
Buffet lunch at Chez Batista = 350 / $29.20
At a 5-Star Hotel/Resort
330ml can of SeyBrew Beer = 110 SCR / $9.20
Glass of wine = 190 / $16
Cocktail = 190 / $16
Starter = 200 / $17
Snacks = 200-300 / $17-$25
Sandwich = 290 / $24
Burger = 390 / $32
Pasta = 300-400 / $25-$33
Main course = 500-690 / $42-$57
Dessert = 200 / $17
Buffet dinner = 1100+ / $90+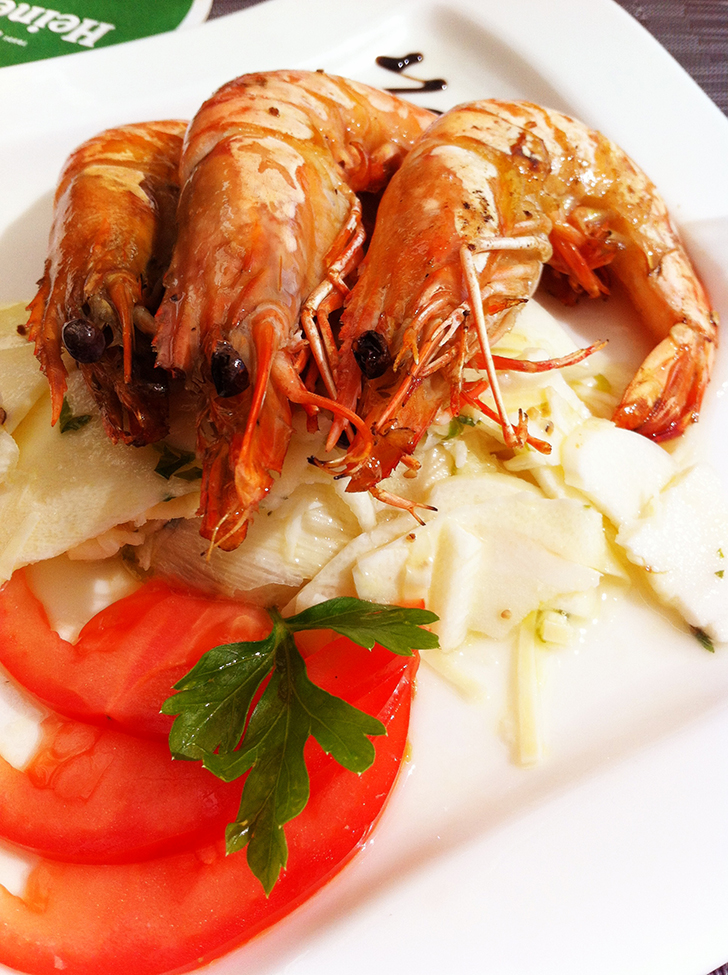 5. Free or affordable things to do in the Seychelles
All beaches on Mahé are public access. Yes, that means you can enjoy the same beaches as the luxury resorts. The more popular beaches will have free parking and facilities; smaller beaches you can simply park beside and you'll often find it all to yourself. Bring your own picnic or BBQ and equipment: snorkelling gear, boogie board, kite, fishing pole. The beaches are too numerous to list but my favourites were Anse Intedance, Anse Forbans, Beau Vallon and Petite Anse.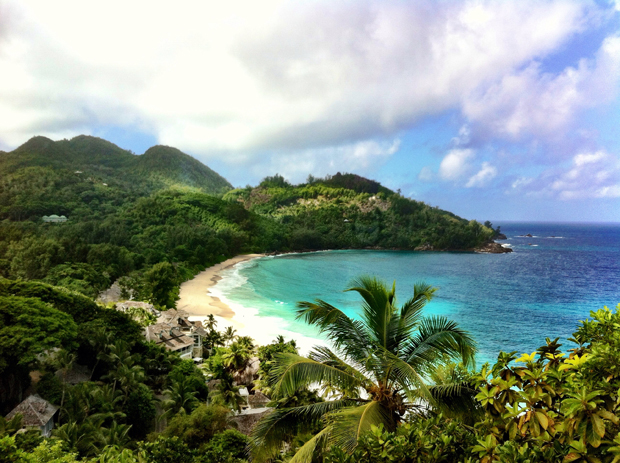 Kayaks, standup paddle board, windsurfing, pedal boats can be rented at Port Launay (same beach as Constance Ephelia). It's also a prime location for snorkelling.
Gaze lovingly into your partner's eyes as the sun sets. Canoodle until you're exhausted or until you can't stand each other.
Drive to pretty viewpoints (Mission Lodge Lookout for example) on mountain passes La Misere and Sans Souci.
Entrance to the Seychelles National Botanic Garden: 100 SCR. Take a selfie with a Aldabra Giant Tortoise.
Go bird watching. Bird enthusiasts will be spoiled with 264 species, some endemic to the islands.
For a truly local experience, go to Katiolo Night Club for some bumpin' and grindin'.
There are several beautiful hikes such as Morne Blanc, Copolia Trail and Trois Freres Trail.