If you thought the Seychelles only had ultra-luxurious 5-star resorts, think again. This island paradise has the most expensive resort in the world but you may be surprised to learn that the Seychelles also has many affordable accommodations in the form of self-catering chalets, villas and apartments, some with prime beachfront locations. These chalets are ideal for the more budget conscious, independent kind of travellers who are looking for simple accommodation and are happy with a low-key experience.
Here are reviews of three affordable self-catering chalets/villas on the main island of Mahé. This will give you an idea of what's available. And you should note that self-catering cottages can also be found on the islands of Praslin and La Digue, with nightly rates even cheaper than Mahé.
Chalets d'Anse Forbans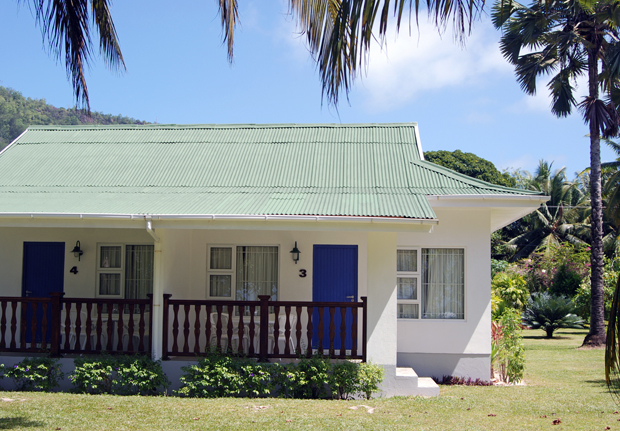 Chalets d'Anse Forbans has an unparalleled beachfront location on quiet Anse Forbans, on the Southeastern coast of Mahé. Twelve 1-bedroom and two 2-bedroom chalets are mere steps from a stretch of idyllic white sand beach and lofty palms.
The room interiors are freshly painted white and blue. All of the suites have a kitchen, en-suite bathroom, air-conditioning, terrace, tile floor, simple furnishings and daily housekeeping. Brigitte and Pierre even include a nice little starter pack of bread, milk, water, tea, coffee and fresh coconut. The two bedroom chalets have an interconnecting bathroom, huge kitchen and generous living area making it ideal for families or groups up to four people.

There's a basic convenience shop very close by to refresh on drinks and snacks. For groceries you will have to go to Quatre Bon, uphill 1.5 km away.
Anse Forbans beach is a stunning, quiet and low-key beach. Though close to DoubleTree Resort by Hilton, you'll never see more than a few people here, maybe locals having a BBQ on the beach – which you should also do. The winds come on this side of the island from June to September but a natural break in the water tames the waves making it swimmable year round.
Brigitte and Pierre plan to close mid-2015 and reopen with a new look in time for the property's 21st birthday. Check their website for updates and current rates.
Chalets d'Anse Forbans
Anse Forbans, Mahe, Seychelles
T: 248 436 61 11
http://www.forbans.com
Standard Bungalow Chalet for 2 persons; 110 to 160 EUR/night
Standard Bungalow for 4-6 persons; 273 to 320 EUR/night
Family Bungalow Chalet for 4 persons; 215 to 250 EUR/night
*rate drops with longer stays and quiet periods
Blue Lagoon Chalets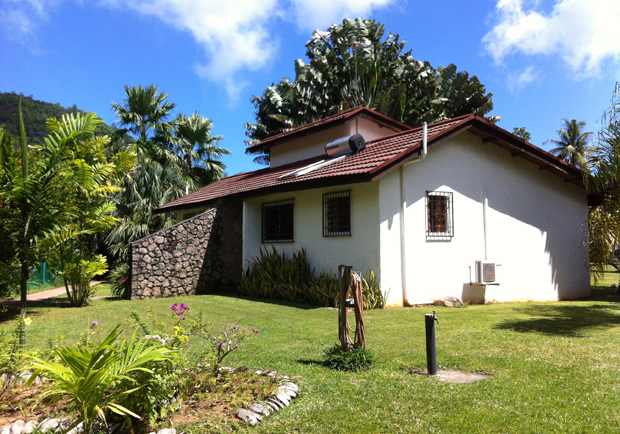 Blue Lagoon Chalets is located at Anse à la Mouche, across the road from the bay's beautiful flat white sand beach. The property has a huge lawn and tropical gardens against a backdrop of some stunning mountains, an inviting place to hang out and read a book. Ferial and Janker are welcoming hosts and have had many repeater guests throughout Blue Lagoon's 33-year history.
There are four chalets, all with two bedrooms, two bathrooms, air-conditioning, a living room, terrace looking to the beach and a kitchen. You'll also have access to a barbecue and housekeeping. The interiors are a bit dated but homey, simple and clean. Each chalet can accommodate up to four adults.
Blue Lagoon is very well situated. Only steps to the beach, 50m to a shop, close to Leo's Divers and if cooking your own meal gets tiresome, Anchor Cafe and Opera Restaurant are close by. The Central-Western side of Mahe has an even more relaxed, chilled-out vibe than the rest of the island.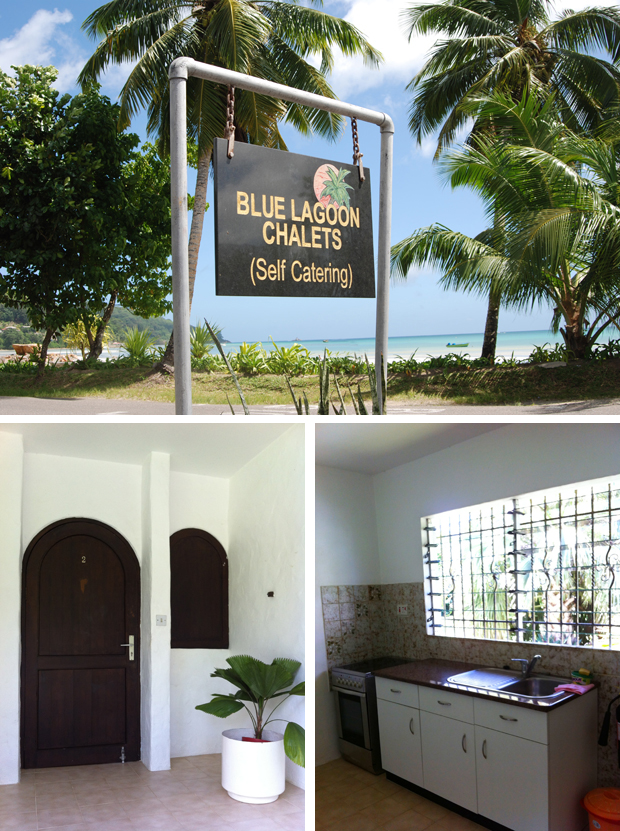 The wind and weather in the Seychelles switches directions during the year and with all accommodations, you should research which place is good depending on when you'll be there. At Anse à la Mouche, December and January are the least desirable time as winds bring in a lot of seaweed to the beach.
Blue Lagoon Chalets
Anse à la Mouche, Mahe, Seychelles
T: 248 4 371197
blagoon@seychelles.net
http://www.seychelles.net/bluelagoon
What I was quoted for 2 people: 125 Euro/night.
Maison Soleil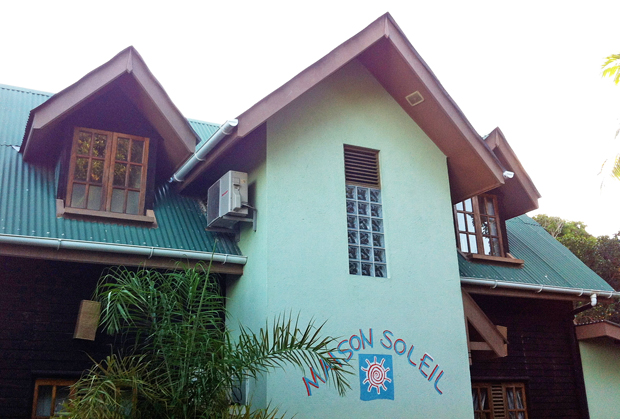 The signs for Maison Soleil make a colourful introduction to this house owned by Artist Andrew Gee, a Londoner who escaped to teach art in the Seychelles some 21 years ago.
Up in the mountains and surrounded by trees, Maison Soleil is a single house divided into three separate apartments, each with unique character, style and homey down-to-earth touches.
The Jasmine suite on the ground floor is ideal for a family or a close group. There are two bedrooms and the living room has an extra bed. Cinnamon has a private outdoor kitchen and dining area that would be great for a group meal. The cute upstairs Vanilla apartment is my favourite of the three: the kitchen is small but serviceable, the bathroom is a decent size. Step out onto the rooftop terrace and you're surrounded by tree tops; you feel like you're in a tree house.
Maison Soleil is on southern Mahé sandwiched between Four Seasons Seychelles and the Kepinski Resort on Anse Soleil Road. All beaches on Mahé are public which means you can enjoy the same beach as those who've paid $1000+ a night. The beach is pretty and calm. It is a big hike to the grocery store and the beach, doable if you're keen on exercise. Otherwise you will need to rent a car.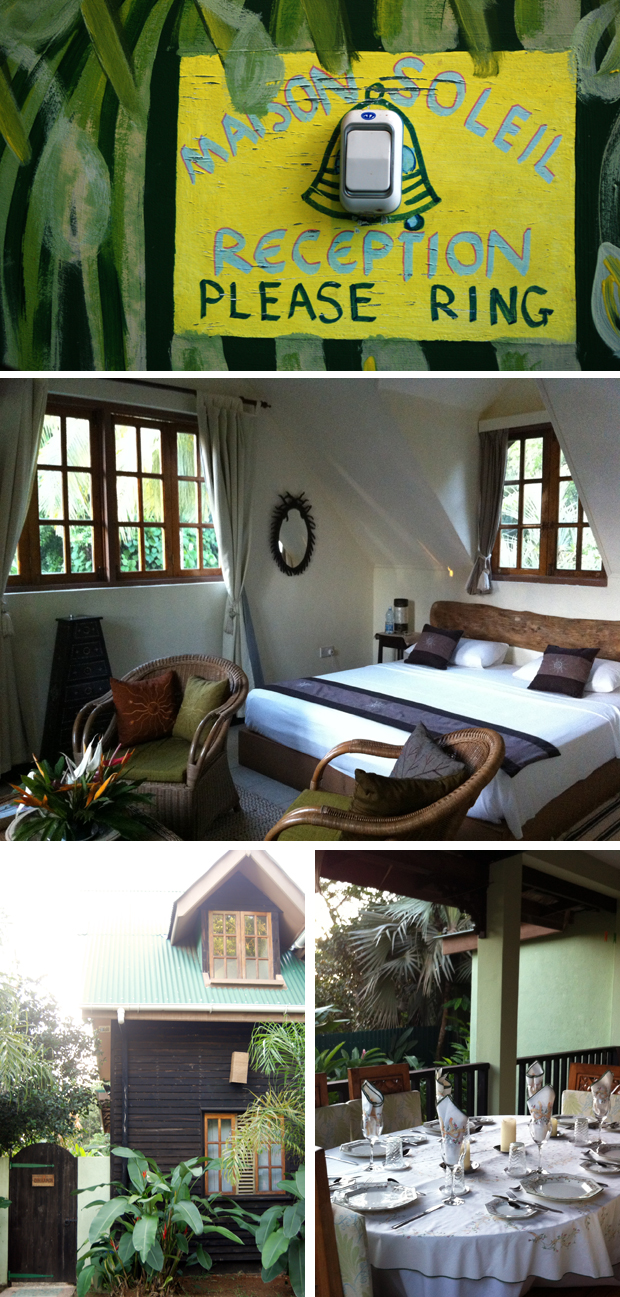 If renting one suite, it is not as private as the other chalets since you are within one building. Maison Soleil is ideal for bigger groups renting the whole house and for those looking for a more characterful place and convivial atmosphere.
Maison Soleil
Anse Soleil Road, Mahe
T: 0024-8271-2677
maisonsoleil.info@gmail.com
http://maisonsoleil.info
All suites 170 € a night. As with all chalets, negotiable with long stays and with renting the whole house.