Travelling Laos during rainy season can be incredibly challenging. Some "roads" in Laos aren't in great condition even in the best weather. Rainy season downpours wreak havoc on the infrastructure. Travel time for road routes can double. Be prepared to encounter landslides, craters, washed out roads, stuck trucks and mud, mud, mud.
"Oh la la la la. Quelle catastrophe! Il n'ya pas de dieu." – overheard on a bus from Luang Prabang to Luang Namtha in torrential rain 
Rainy or "green season," approximately June to September, is an amazing time to explore Laos. Every rainy season since I began living in Laos, I've hit the muddy, mucky roads in both the northern and southern regions of the country and have been rewarded with stunning mountain vistas, rice paddies bursting with neon green and waterfalls so full and powerful they'll make your knees quiver. So if you're up for the challenge, here are tips for travelling Laos during rainy season.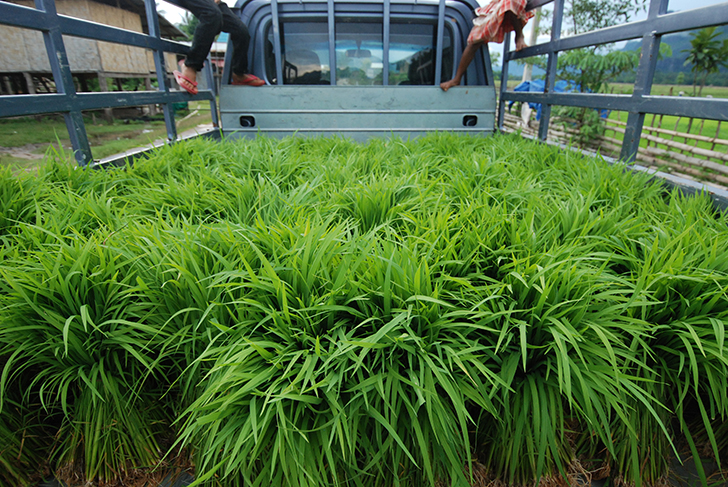 1. Point A to Point B? Fly or travel by boat
Flying within Laos might be considered expensive on a backpacker's budget but in the end, that US$80 flight from Vientiane to Luang Prabang can save you a lot of grief as landslides on that route are frequent. Also, Laos relies heavily on transport trucks which tear up muddy roads rendering them treacherous.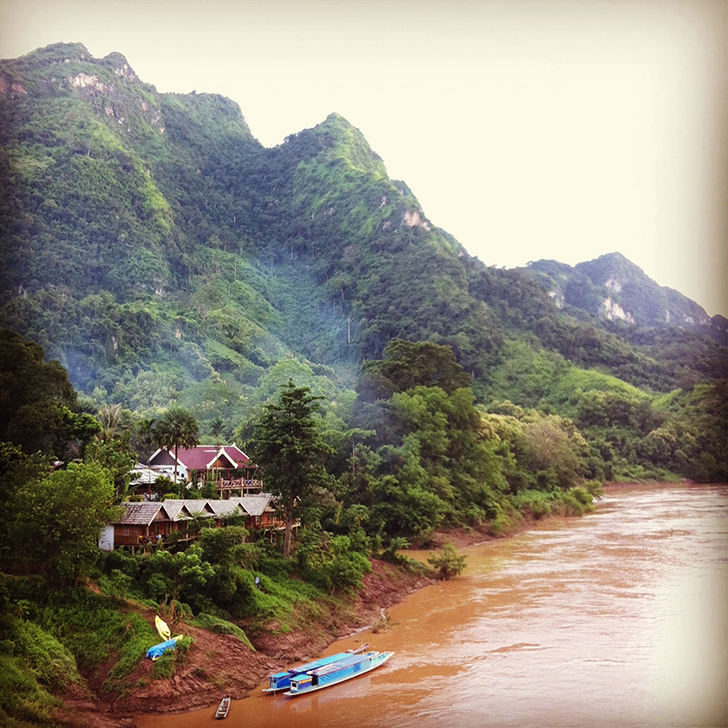 Boat routes are in full swing when the rains come so take advantage. The 2-day slow boat journey on the Mekong River from the Chiang Kong (Thai) / Huay Xai (Lao) border is undoubtedly the best route to Luang Prabang during rainy season. Unfortunately, you can no longer travel by boat from Luang Prabang to Nong Khiaw on the Nam Ou River due to dam construction. But at the moment, you can still experience the Nam Ou by journeying between Muang Khua and Nong Khiaw, or for something shorter, travelling upriver from Nong Khiaw to Muang Ngoi or Ban Sopjam.
If you insist on travelling overland…
2. Minivan vs Bus
In an event of road blockage due to landslide, there's a greater chance that a minivan will be able to skirt around the obstruction than a large bus – something to consider if you have both as options. There's no guarantee that the landslide won't block the whole road though. If you're lucky, they'll be able to clear it in a few hours. If not, you're spending the night (or two). On that note…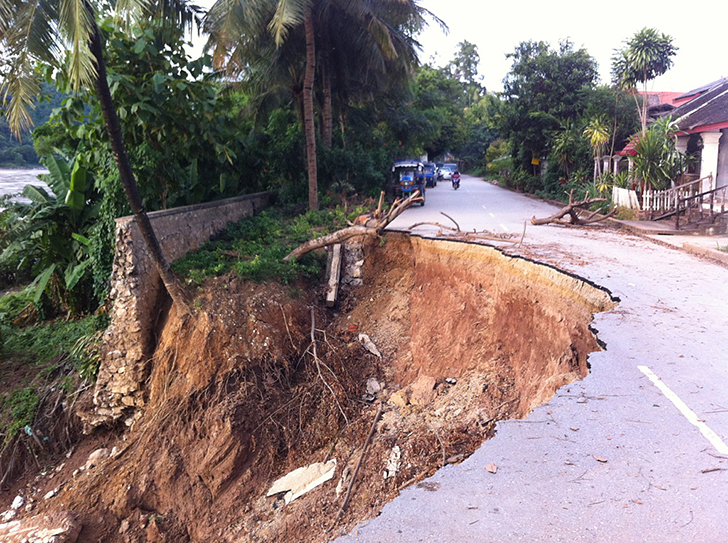 3. Pack patience and snacks
Don't get irritated. Everyone on that bus has the same goal as you: to arrive at the destination alive, as comfortably as possible. Showing anger is taboo in Lao culture and it doesn't help the situation. Make borpenyang, the Lao "no-problem" motto, your mantra. The snacks will get you through any delays – offer some with a smile to your seatmates and make friends.
The reward? Spectacular scenery.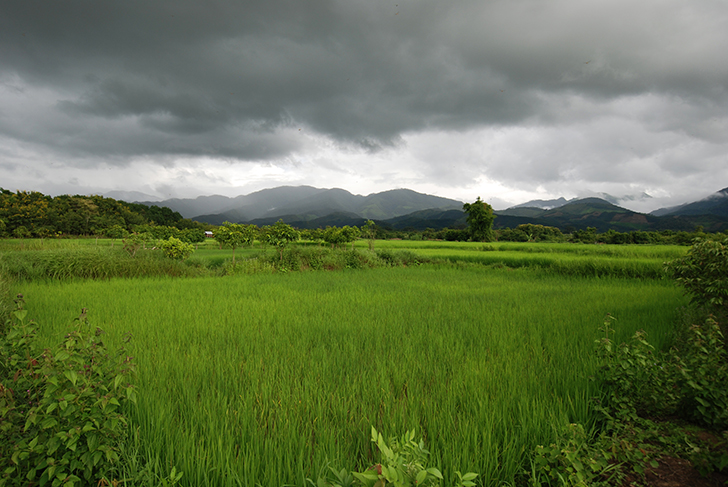 4. Be flexible
Factor in more time than what's usual. What normally takes 5 hours during dry season can easily take 8+ in wet weather. You may have to change plans or unexpectedly stay a night in another town than planned. Have extra local currency kip with you. Don't rely on a tight or strict itinerary.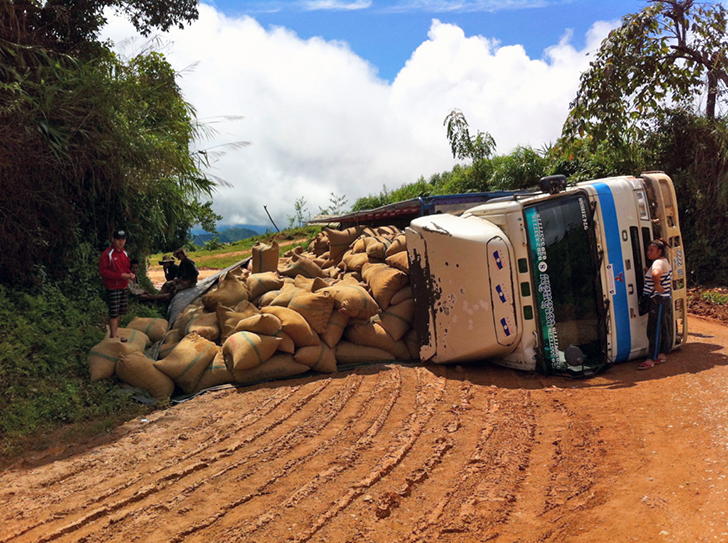 5. Good sandals or hiking boots
Flip-flops are useless in the mud. I live in and love Keen sandals for travel. No matter what footwear, expect to get dirty. Trekking in Laos during rainy season is also extremely tough – expect slick conditions, humid weather, mosquitoes and leeches.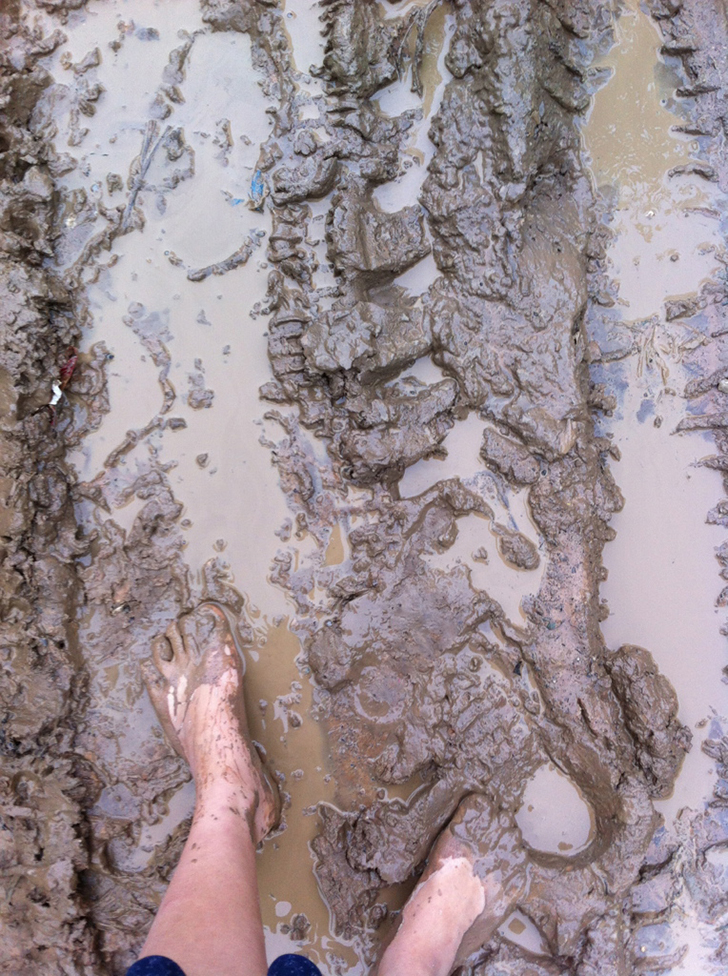 (Bonus) 6. Keep Calm and…
At the end of the long journey, when you've been rattled, shaken, jolted, bounced and flopped around in your half-seat for eight hours, throw down your pack, stretch and have a Beer Lao.
Travelling in Laos during rainy season is not all doom and gloom. The public buses and vans, despite their age, are surprisingly powerful, the drivers used to these conditions. You'll be surprised (and thankful) as they skilfully skirt craters and navigate potholes.
Rainy season in Laos is crazy beautiful and adventurous. Are you up for it?