A travel & food chat with Chef Dennis Leslie. In this interview, his favourite food destinations, foodie discoveries while on the road and how he feels about eating notorious fertilized duck embryo.
Chef Dennis Leslie considers travelling the best part of his job. Beginning his career in 1996, his climb up the culinary ladder and passion for learning about different cultures has taken him around the world. He worked in restaurants in Dublin, Oxford and Edinburgh before returning home to take the reigns of Hilton Adelaide's The Brasserie and its team of 30 chefs and 18 stewards. He has just taken on a new role as Executive Sous Chef at the Adelaide Oval.
What's your favourite food destination?
I just came from America. It never was on the list of things to do for me, ever…then I went there by accident last year and I just dream about going back to America, I dream about going back to New York. There's just so much food and culture. It's so exciting just thinking about New York!
For me though, in the future, it would have to be South America. I'm so interested in how they do things, from Mexico all the way down to South America…I think that's where the food trend is going to eventually go, not just in Australia but in the whole of the world, with World Cup heading there, and then the Olympics in Rio.
Where have you been in the last two years?
Vietnam, Thailand, Kuala Lumpur, New York, Sri Lanka and in two weeks time I'm off to New Zealand. All of them but New York has been for work.
I've just come back from Columbo (Sri Lanka) and that was through work.
It was spectacular. It just came out of civil war three or four years ago and everything has been closed off to the world for about 30 odd years. So now, they've opened the floodgates. They're going to build Four Seasons Hotels and things like that all the way down. So tourism in that area is going to go ballistic. It's kind of nice to see Sri Lanka raw, before all of that comes in.
Have you ever gone somewhere, seen something that you've never seen before and just gone "WOW"?
All the time. In Sri Lanka, there were some vegetables that I had never seen before. The way they do things, because of the heat and humidity, is a lot different to how we approach our food here…I think Australians are now getting that food is about a celebration. It's not just eating for survival but it's to uphold connections to friends and family, to create memories. The Western world is, I think, just catching up.
Have you ever travelled to another country, saw or tried food and had an "Ugh!" reaction?
No, I'm quite adventurous in that way. Curiosity will win all the time. In Sri Lanka, there were these little roti puffs that I'd never seen before being sold on the side of the road. We stopped in this little – you know, when you look at it you go "I'm going to get salmonella from this place" – but you just want to give it a go anyways (laughs). Those are the experiences that are really valuable for me.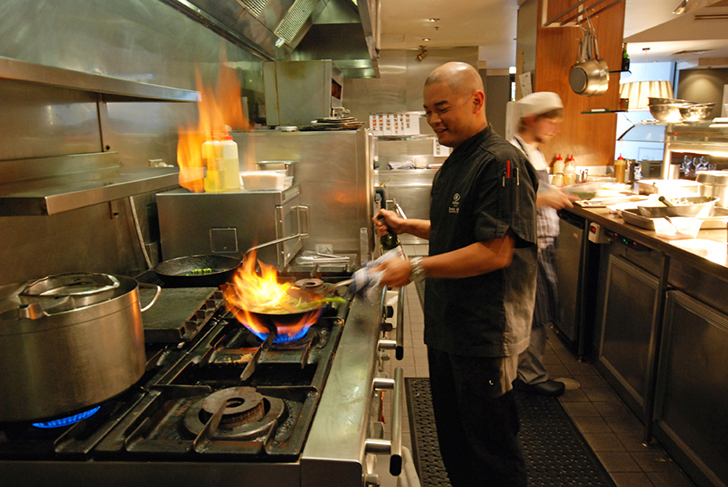 How do you feel about balut (fertilized duck embryo, a snack in the Philippines and other countries in Asia)?
Fine.
Do you like it?
I don't like it. I don't necessarily agree with it but I have tried it. The thing that I wouldn't try is the live octopus. I read in the paper the other day, somebody in Korea had live octopus and felt this stinging in their palate and in their throat and they didn't know what it was. What had happened was that it had laid eggs and it started hatching.
That's probably the only thing that I'd never try. Also, there are practices that I don't necessarily agree with like eating fish that's half alive, cobras while the hearts are still beating. I wouldn't sit there and judge if I was in that country, but I wouldn't partake. There are just certain things that I don't agree with.
What food-related travel experience stands out in your memory?
There are so many. The time when I went to Florence and we went into this hole in the wall – it really was a hole in the wall, it was just a brick wall with a glass door – and we thought, "What's in there?" …And we went into this Italian smallgoods Xanadu! It was phenomenal; I've never seen anything quite like it. From these old ladies dressed in black chopping up pig's heads and making smallgoods [charcuterie] right there, to the truffled mini salamis in vacuum pack bags.
And the recent trip to New York, it was like a food trail for us. I've got a customer who spends six months in Adelaide, then six months in New York. She drew up a list of 72 places to go and I knocked off, I reckon, two-thirds of that list. One of my chef dreams has been to visit one of my favourite chefs ever Nobu Matsuhisa and his original Nobu restaurant in New York. And I can tell you, the moment that I walked in, it was like all your dreams coming true. Ever since I was a first year apprentice, he was a food hero of mine.
If you could fly anywhere in the world for a meal right now, where would you go?
Mexico. And I'd probably hitchhike all the way to South America.
Follow him on Instagram @dennisleslie; Facebook; twitter @dennisleslie1