Grilled peaches and cream: local peaches grilled, topped with pure cream and macadamia nut crumble
Coffs Harbour, NSW – I parked my campervan in the Jetty Beach lot. I awoke at 7 am to some strange sounds. I peered out and discovered the lot had been converted into a Sunday market. Vendors were busy setting up stalls. How convenient! I rolled out of bed, combed my hair with my fingers, then went shopping for inspiration for another delicious campervan meal.
I smelled the peaches before I saw them. There they were, plump and bursting with juice. I immediately thought of grilling some, one of my favourite summertime pleasures. If you have any not quite ripe peaches, grilling is a great way to make it sweeter (other stone fruits and pineapple also work well). The ones I bought were perfect and ripe, but I love that caramelized flavour.
The macadamia nuts also caught my eye. In Canada, they are quite the expensive treat but here they were cheap as chips, the plantations only half an hour away in Nambucca Valley.
I'm one of those people who try to open packages and bottles like a pitbull. I attack it without looking at the tiny writing that says "Tear Here" or "Open on the other side." I usually end up with mangled boxes and its contents spilled everywhere.
I was giddy as I tried opening a bottle of cream for this dessert. There are few things so satisfying as using pure full fat cream in a recipe. Ignoring the label, I struggled with getting the lid off, gave a mighty tug and it flew open, drenching me head to toe in luscious glops. I stood there, stunned.
In moments of culinary crisis, I always think, "What would Nigella do?" I laughed and started licking the cream off of myself, enjoying every moment of it.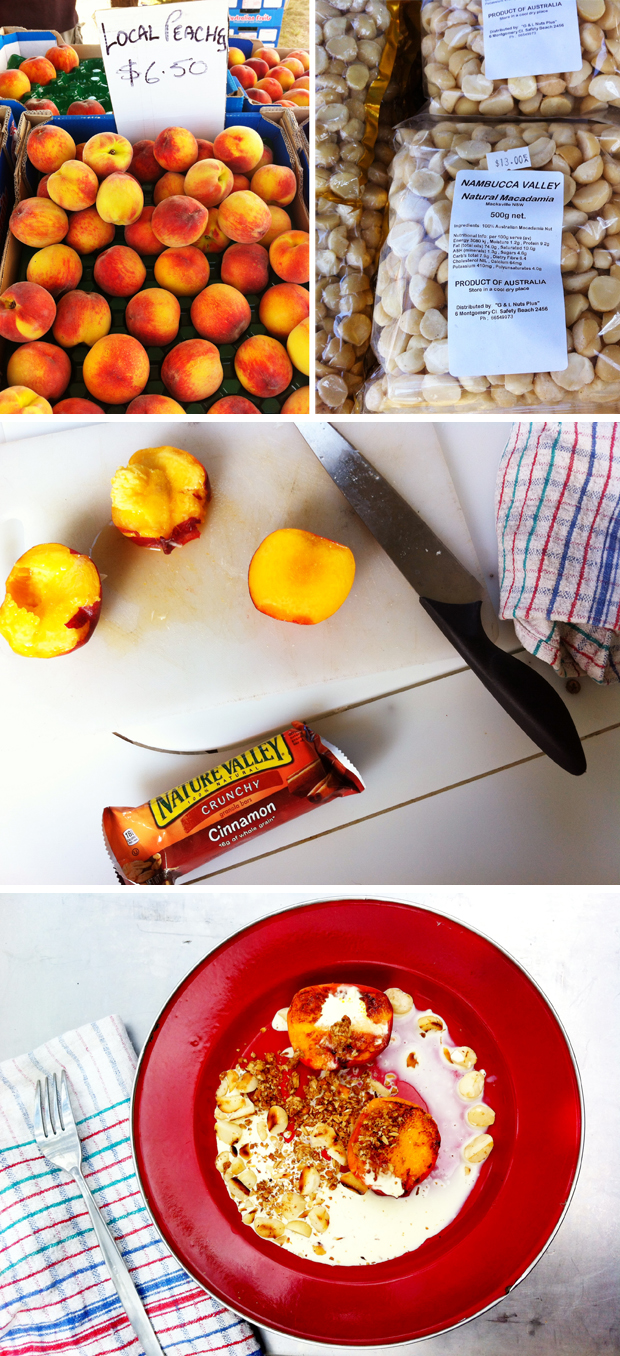 Grilled peaches and cream: local peaches grilled, drizzled with pure cream, topped with macadamia nut crumble
– Peaches
– Full fat pure cream
– Macadamia nuts
– Nature Valley cinnamon crunchy granola bar
Heat up the pan. Rough chop the raw macadamia nuts and roast them in the pan, constantly moving the pan to ensure they don't burn. Remove the nuts when the outside is nicely burnished.
Heat up the grill. Cut the peach in half and remove the stone. Lightly oil the grill (take paper towel dipped in oil and wipe it down). Place the fruit on and grill until both sides have char marks and are nicely caramelized.
Smash up a Nature Valley crunchy bar until crumbled (keep it in the package and hammer it with something hard).
Plate up: peaches, pour over the cream, top with nuts and crumble. If you accidentally splash cream on yourself, seductively lick it off.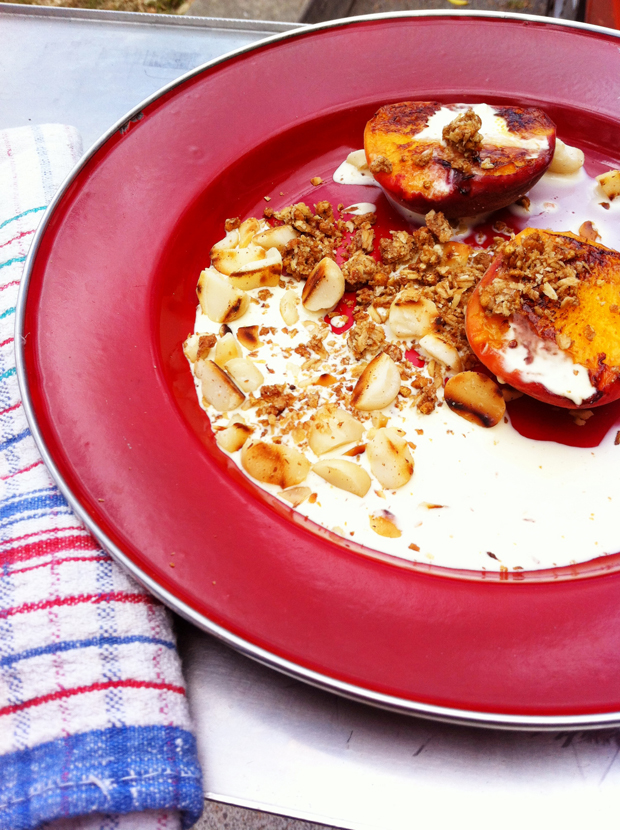 Read about my "Great Kohlrabi Challenge" – Making cheap, easy meals using fresh, local ingredients while on a road trip through Australia in a campervan.
.