No trip to Chiang Mai should be without trying khao soi or khao soy. This delicious noodle soup is so iconic of the northern Thailand city that it is often simply called "Chiang Mai noodles."
Hearty egg noodles swim in a coconut milk curry soup with tender fall-off-the-bone meat, usually chicken or beef. It's topped with crispy deep-fried noodles, cilantro and always served with lime wedges, pickled mustard, sliced shallots and chili paste. Backpackers will be delighted to hear that a bowl costs only 30-50 baht ($1-1.60).
Khao soi likely originated from Burma, brought over by Chinese Muslims traders in the 18th-19th century.
A good bowl of khao soi will be a perfect balance of hot, sour, salty, sweet. The exotic, earthy curry spices and the sweetness from the coconut milk should not be overwhelming.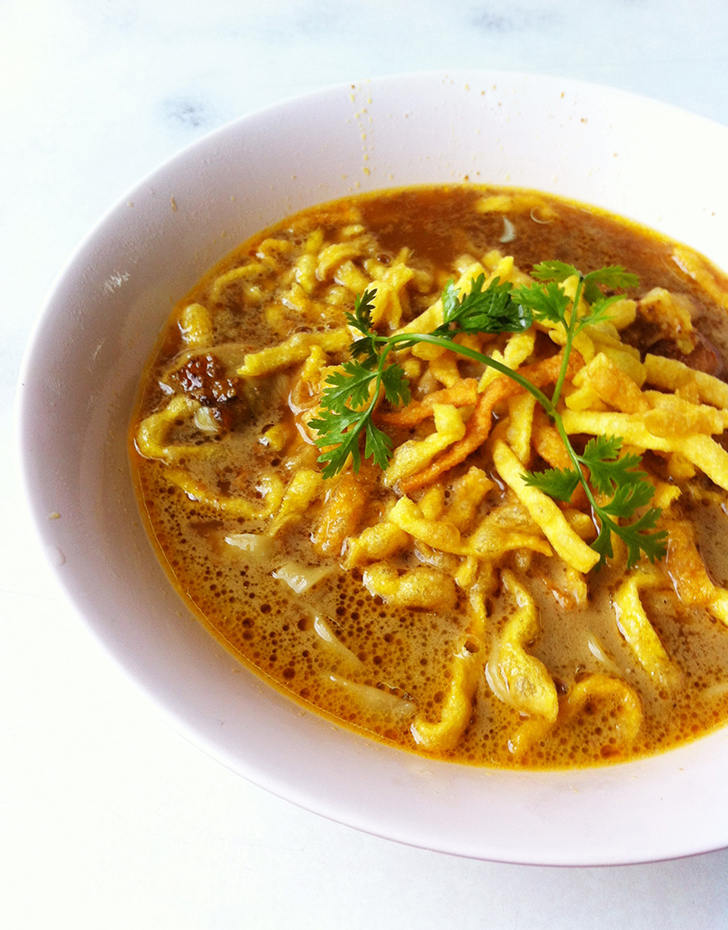 It should not be mistaken for khao soi served in northern Laos. This version is very different and is also a must try when in Luang Prabang. Lao khao soi is made of wide rice noodles in a clear soup, with minced pork, fermented soybeans, tomatoes, chilies, shallots and garlic.
On a recent trip to Chiang Mai, I took on the difficult task of researching the best places to eat khao soi (burp).
Where to eat khao soi in Chiang Mai
Khao Soi Samer Jai, Fhaham (next to Fhaham temple)
391 Charoenraj Road
Tambon Fahham
Tel: 053-242-928
The broth is excellent – dark and flavourful, rich with earthy spice and low on the coconut milk that can make the dish overly sweet. Try the khao soi beef and yummy grilled satay skewers with peanut sauce.
Khao Soi Prince
105-109 Th Kaew Nawarat, near Prince Royals College
Tel: 053 242 446
A Muslim restaurant that serves a to-die-for khao soi with tender chunks of chicken and excellent pickled mustard.
Khao Soi Lam Duan Fah Ham
352/22 Charoenraj Road
Tel: 66-53-243-519
On the same road as Khao Soi Samer Jai. One of the most popular khao soi places in Chiang Mai. Try the pork noodles.
Suthasinee
164/10 Chang Klan Road, near Chiang Mai Land
THE place to go to for beef khao soi.
* TIP: the easiest way to get to these restaurants is to write down the telephone number and ask your tuk-tuk driver to call them for directions
Have any recommendations for where to eat khao soi? Share in the comments.